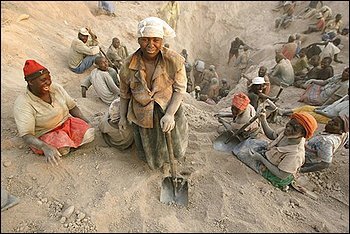 CC image courtesy of Pan African news wire file flickr
A digital register for mining operations in Zimbabwe will be introduced by the government in a bid to ease the industry's management and regulations, according to Walter Chidhakwa, mines and mining development minister.
The Zimbabwe Standard reports the register will include information on ownership, boundaries, and value of real property in a district.
"A successful mining industry is one that is supported by computerised Management Information System (MIS). Such an MIS will facilitate appropriate planning, coordination, communication, control and decision making in the ministry's efforts to manage the country's mineral resources," said Chidhakwa.
The ministry's contribution to GDP grew increased from four per cent to 16.9 per cent in the period 2009 to 2011.
The computerised system has been more than a year in the planning and will replace the current paper-based method and should add value to the state's resources, offering security of tenure to investors.
Chidhakwa said: "Such a system will result in the modernisation of mining title management system in line with regional and international best practices to provide for a faster and more efficient system."