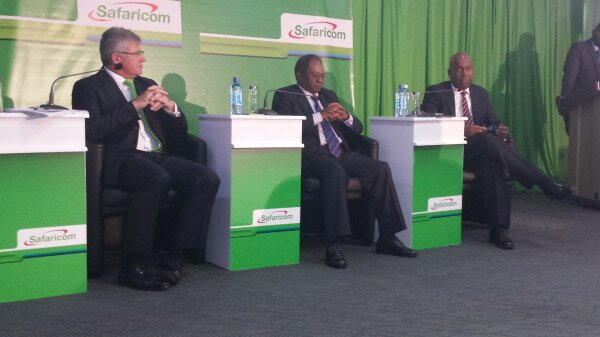 From left, John Tombleson, Safaricom CFO, Nicholas Nganga, Safaricom board chairman and Bob Collymore CEO
Safaricom announced its a new half-year profitability record for corporate Kenya yesterday (Tuesday) by reporting a KSh11.3 billion (US$123.2 million) pre-tax profit for the six month period ended September 30, 2013.
Profit after tax increased by 45 per cent, up from KSh11.5 billion (US$134.5 million) over the corresponding period in 2012.
Strong growth in data and mobile money services in the six months propelled Safaricom to the its best half year performance since listing at the Nairobi Securities Exchange (NSE) in 2008.
Bob Collymore, Safaricom chief executive officer (CEO), said: "This set of results demonstrates our commitment to growing investment and shareholder returns through sustained commercial and financial performance across our entire service portfolio.
"Non-voice service revenue streams continue to deliver solid growth having increased by 30 per cent."
Total revenue increased by 17 per cent to KSh69.2 billion (US$809.4 million), with voice, its biggest revenue stream, growing 12 per cent to KSh41.9 billion (US$490.1 million).
"The [voice] growth… is as a result of our focus on providing quality services which has seen all our revenue streams post impressive growth," Collymore said. "Non-voice services revenue streams continue to deliver solid growth having increased by 30 per cent and highlights continued execution against our strategy to diversify revenues."
SMS had the highest growth of any single revenue stream at 48.7 per cent to KSh6.35 billion (US$74.3 million).
Earnings from data grew at 37.4 per cent to KSh5.7 billion (US$66.7 million), triggered by an increase in customers from 5.59 million the previous period to 8.48 million.
John Tombleson, Safaricom chief financial officer, said "We gained 2.9 million customers in the data segment, but they have not yet grown to match the spending of earlier adopters."
Safaricom expects to continue with the good run for the remaining half of its 2013/2014 financial year, but cautioned that the new value added tax (VAT) laws could affect the spending patterns of its customers.
Nicholas Nganga, Safaricom board chairman, said: "We remain watchful on the overall impact that the new VAT legislation will have on overlying inflation and by extension consumer behavior with respect to our industry."
The company's share has had a rally in the past month where it traded at a record high of KSh9.70 on Monday, a significant rise from KSh4.50 that the share was trading at in November 2012 and its all-time low of KSh2.50 in 2011.
"The performance of Safaricom share price too has been to say the least, quite impressive with an average trading value in the month of September 2013 of Ksh9.00 per share, taking our market capitalization to an all time high of KSh360 billion (US$4.2 billion)," said Nganga
However, Safaricom did not declare an interim dividend, but the performance means its ability to pay dividends has increased significantly as measured by potential dividends on each share.