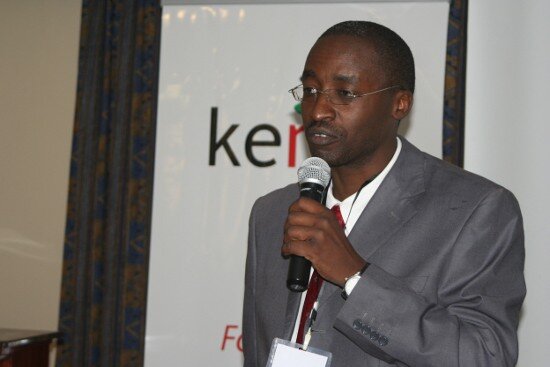 Former CEO Anthony Wambugu addresses Kenic's AGM
John Wambugu, chief executive officer (CEO) at Kenya Network Information Center (KENIC), appears to have been fired just a few months into the job although the exact date of his departure remains unclear.
HumanIPO understands Wambugu could have been fired in early October although a newspaper article a fortnight ago quoted Wambugu as a source in its story.
According to a source, Wambugu was sacked by the board headed by professor Jimmy Macharia for being incompetent.
Prior to his appointment, Sammy Burucahara also served at KENIC for several months at a time KENIC was facing a major escalation of expenses which hit KSh29 million (US$340,000), as profits witnessed a 65 per cent drop to KSh1.5 million (US$17,600).
The new CEO regretted that KENIC was spending over half of its gross income on paying its staff with Buruchara hoping to bring it down to 30 per cent by September this year with the help of a consultancy group.
"The consultant has developed a new HR policy, finance and procurement policy, risk management policy," Burucahara said. "Those things are in place and we have opened up the organization to represent as many groups as we can."
HumanIPO has approached board members and stakeholders which include the Ministry of I Information, Communication and Technology, the Telecommunication Service Providers Association of Kenya (TESPOK), Communications Commission of Kenya (CCK), Kenya Private Sector Alliance (KEPSA), Kenya Education Network, Consumers Federation of Kenya (COFEK) and the Domain Name Registrar Association of Kenya for further information.
"Please get in touch with the chairman of the KENIC Board, Prof. Jimmy Macharia, of USIU. CCK is not authorized to speak on behalf of KENIC Board," CCK said in its response to HumanIPO.
Questions raised by HumanIPO to COFEK and TESPOK have not been responded to by the time of publication.
If the reports are confirmed, Wambugu will be the seventh CEO in the last six years at the helm of the organisation that has been tasked with administering Kenya's internet domain to have been sacked.