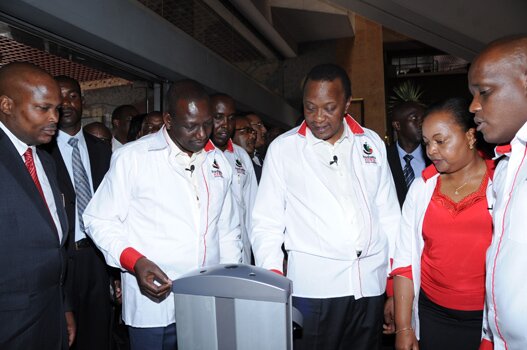 Image Courtesy of PSCU
Kenya's President Uhuru Kenyatta launched the government's one-stop-shop portal yesterday (Thursday) that will ensure effective delivery of public services in the country.
Huduma Kenya is expected to curb the inefficiency that encourages corruption and improve transparency and accountability in public service delivery.
"The Jubilee Administration sees the rationalisation and digitisation of public services as a way of breaking that cycle, and removing unnecessary bureaucracy in order to improve the public sector delivery system," Kenyatta said.
The president said the e-Huduma web portal will provide integrated services offered through various government ministries, departments and agencies and a unified and integrated channel payment gateway to facilitate ease of payment for government services.
Among the services that the public will be able to receive at the Teleposta Huduma Centre include renewal of drivers' licenses, issuance of duplicate Identity Cards, registration for the National Hospital Insurance Fund (NHIF) and processing of NHIF Claims.
The public can also obtain their NHIF member statements, have their stamp duty assessment conducted and pay for it, have their Single Business Permit and Nairobi City County seasonal tickets processed and issued at the Centre.
"Beginning today, we want to put the unacceptable public sector delivery practices and system behind us, and embark on the journey to secure the promise of an efficient public sector." Kenyatta said
Kenyatta directed all cabinet secretaries to urgently undertake comprehensive review of the service delivery system of their ministries with a view to digitise and automate their records and business processes.
He said his government will continually review the laws and regulations to ensure that they provide necessary controls and create space for efficient service delivery.