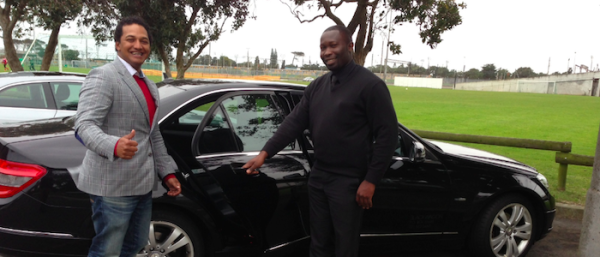 A handful of Uber users in Cape Town have expressed dismay at being greeted by lower-end vehicles after using the mobile app only to be delivered a Chevy or a Toyota.
The United States-based company launched in Johannesburg in August and has followed that by going live in Cape Town and Durban in the past two months.
In Cape Town, Uber began by offering its trademark "black cars", normally high-end Mercedes or BMW vehicles.
One Uber user, a media specialist in their 20s who did not want to be named, told HumanIPO last week however she was disappointed when picked up in Green Point by a driver in a Chevy.
She said: "I had heard it was high-end cars and it was my first time using Uber, but probably the last time. I don't like false advertising."
Responding to the comments, Lindsey Elkin, part of the Uber Cape Town team on the ground, told HumanIPO: "Being transparent with riders is at the core of our values and at the heart of everything we do.
"We always ensure riders know who will arrive in what car – once you order a car you are immediately provided with your driver's name, photo, license plate, and the car type."
In a separate blogpost on the Uber site, Elkin explains high demand has led them to enlist different types of vehicles.
Elkin writes: "We would rather have you safely in a licensed car, be that a Mercedes or a Toyota, with a professional driver than unable to access your private driver when you need him/her the most!"
The fleet expansion has also coincided with a rise in tariff, which Uber Cape Town did say would happen when they first launched.
Uber's earlier low cost was part of a drive to attract new users who had not experienced the Uber service before. The per/km fare is now ZAR11(US$1), with a base rate of ZAR15 (US$1.45), a per minute fee of ZAR1.1 and minimum fare of ZAR50 (US$4.80).
The services "teething problems" however have been picked up on by its regular and loyal users, many of whom are prominent members of the Cape Town tech community and were early adopters of the service.
@uber_ct your service lately is horrible. If I book a car and it says 8 minutes, the wait shouldn't be 20 minutes.

— Nic Haralambous (@nicharry) November 8, 2013
I liked @Uber better when it was underground in CT. No cabs in Greenpoint. Cc @uber_CT pic.twitter.com/2JFoHaIF62

— Charl Norman (@CharlN) October 25, 2013
Uber has ambitions to expand its service in Africa, with launches planned for Nairobi, Kenya, and Lagos, Nigeria, to join the already 56 cities, in 20 countries it is active in.
Jambu Palaniappan, the company's head of Europe, Middle East and Africa, told HumanIPO last month they were exploring the possibility of integrating mobile money services, such as M-Pesa, into its payment portal.