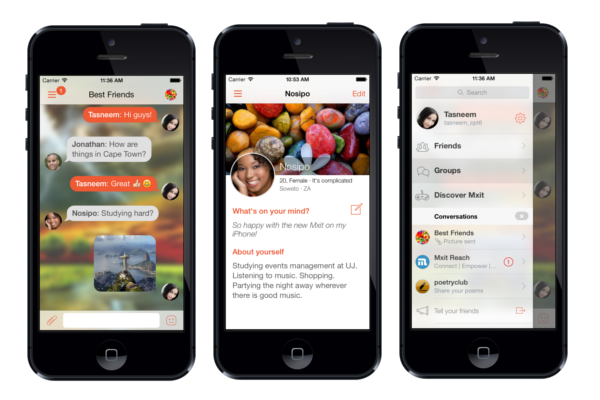 Images released by Mxit of version 7 for iPhone.
Mxit, a South African mobile social network, has launched its latest version designed for feature phones, the iPhone and iPad, with compatibility for other smartphones expected to follow shortly.
Mxit 7 is being released in a phased rollout, with versions for Android and BlackBerry to go live before Christmas and Windows Phone early next year.
The updated version includes offline updates for Nokia Asha users whenever they get a message and a "more engaging chat experience".
Mxit 7 for iOS meanwhile has been completely rebuilt with features including Doodlechat and Backdrop. It will be available on the App Store from Friday, November 15.
"Our users love to chat, so we improved the chat experience across all versions of Mxit," said Vincent Maher, chief product officer of Mxit. "We're also building on the things that made Mxit great in the first place – the fact that we can reliably deliver half a billion messages every day – and extending that with new features like group chat."
The J2ME feature phone version also includes group chats, chat tabs, more detailed profiles and automatic upgrades.
The iOS version will also introduce Voicechat for the first time allowing users to record and send voice clips and messages in chat.
Francois Swart, Mxit chief executive officer (CEO), said: "Mxit 7 is the result of our renewed focus on offering an affordable and rich chat experience that bridges the gap between feature and smartphone users. This is a significant rollout for us, but it is only the beginning – there is plenty of innovation to come."