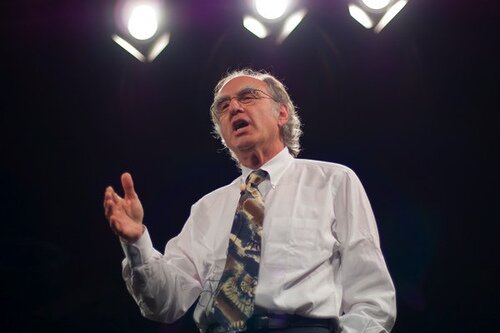 Howard Charney, of Cisco. CC image courtesy of ObscuraDK on Flickr
Howard Charney, senior vice president at Cisco, believes it is a "tough" fact of life that Africa will always be last to witness hi-tech and telecommunications innovation, but that does not mean it will never see the advantages.
Speaking to reporters at in-depth briefing on the sidelines of AfricaCom 2013 in Cape Town yesterday (Tuesday), Charney outlined Cisco's vision of the "Internet of Everything", which means every device and piece of infrastructure – including hospitals, cars and traffic lights – will be permanently connected to the web and communicating with each other.
While Charney believes internet connected cars can be expected to be made available in major developed and tech-advanced cities such as Tokyo and San Francisco within 5 years, Africa's major cities are more likely to catch up in 10 years.
"Africa lags behind in basic infrastructure and it is basic infrastructure that is needed for these services," the senior VP said. "It is a public private partnership that is needed."
"It is so uphill in Africa because there are people who do not have clean water. We can't really go to people and tell them about cars that stop automatically or do need to ever stop at a intersection because they are connected."
Regarding the common theme of a digital divide existing between the developed and emerging world and concerns that innovations such as the ones which Cisco are working on will only serve to increase that, Charney said he did not agree.
"There is this old thinking that there is a gap between the haves and the have-nots, and I reject that," he said. "The reason the Maasai (an East African racial group) have smart devices in Kenya is because the price of them is dropping enough. They (Africans) do get these things, but they just get them later.
"For 10 thousand years there has always been people who have less money and more money."
He said the job of Cisco and other technology companies should be to ensure the price point of these innovations come down and the secret to that is volume.
"The quicker we start to roll these out these innovations, the quicker the prices will come down," Charney added, saying the key to Africa seeing these developments sooner rather than later was them proving successful and accessible in the developed world first, which will increase the volume and bring down the price.
Charney also touched on the challenge facing Cisco when they liaise with governments on the continent, which often do not understand the technological argument, but do "understand economics and getting re-elected".
"Africa is this amazing place which is so rich in people and rich in natural resources and minerals, but turning that into economic reality is another matter," Charney said.
"I believe in my heart of hearts, I don't want it to be this way (that Africa will always be lagging behind), but practically I think it will always be."