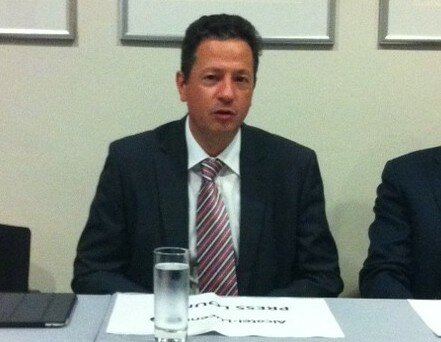 Peter Ziegelwanger, chief technical officer (CTO) at YooMee.
Cameroon could get its first LTE network in the first quarter of 2014, after data-only specialists YooMee announced a partnership with global vendor Alcatel-Lucent.
HumanIPO reported in July Alcatel-Lucent was building West Africa's first LTE network for Ghana in partnership with Surfline Communications and the deal with YooMee will further increase its presence on the continent.
YooMee already has a live WiMAX network which it is still expanding, but speaking to reporters at AfricaCom 2013 in Cape Town today (Wednesday) Peter Ziegelwanger, chief technical officer (CTO) at YooMee, said they planned to go live with LTE in the first quarter of 2014.
"Our aim is to bring internet to the masses. Not only to an exclusive part of the population in Sub-Saharan Africa, but also to the lower and middle classes," Ziegelwanger said.
YooMee already has the relevant licence in place for rollout in Cameroon and already has a wireless network in place at the University of Doula serving 70,000 students.
The company is confident the price of LTE-enabled devices will begin to come down enough during 2014 to allow users to utilise its new service once it goes live.
HumanIPO reported in July many African operators believed the high cost of LTE-enabled devices was holding back uptake of the faster network.
But Ziegelwanger, who was joined by representative from fellow Alcatel-Lucent clients Smile and Surfline, said they understood a change was about to take place.
"The devices are really critical and the price point really critical. We are looking into dongles, Mi-Fi and modems," Ziegelwanger said. "We do expect the price drop will take place in 2014 when the mass market begins with larger volumes being bought."
This "mass market" and reduction in prices is expected to be driven by increasing uptake in the United States and Europe.
YooMee, like Surfline which will go live with its Ghana LTE network at the start of next year, do not plan to subsidise devices because their market will be a pre-paid only one.
Tom Allen, chief operating officer (COO) at Smile which went live with its LTE networks in Uganda and Tanzania one year ago, said there had already been dramatic reductions in the LTE device market and it was moving much faster than 3G.
Last year a LTE router cost Smile US$240, but it is now down to US$105.
"We sell them at cost price and I am not interested in making money from them," Allen said. "Mi-Fi is selling at 5:1 against any other LTE devices and are selling for US$90."
Regarding future markets for YooMee, Ziegelwanger said Angola, Rwanda and the Ivory Coast were all on their radar, but regulatory and license issues are expected to delay roll outs in those countries.
Regarding Alcatel-Lucent's involvement, the vendor said it will provide an end-to-end network deployment as well as network integration and startup assistance.
Daniel Jaeger, vice president of Alcatel-Lucent in Africa, said: "This solution leverages both our Wireless and our IP leadership capabilities to provide exactly what YooMee needed for their plans. We look forward to working alongside YooMee as they expand ultra-broadband service in Sub-Saharan Africa."