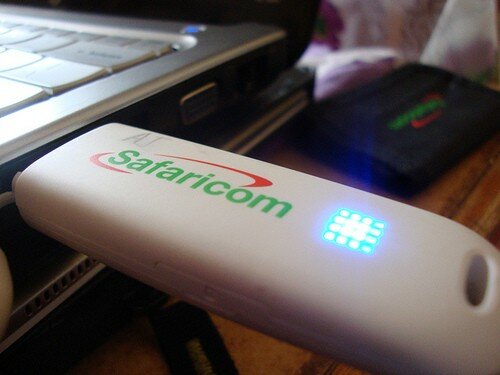 CC Image courtesy of AJ LEON on Flickr
Safaricom, Kenya's biggest mobile network provider, has introduced a new roaming bundle for its subscribers travelling across the region, which could lower the current high charges.
Safaricom's pre-pay customers roaming in Uganda, Tanzania and Rwanda can now buy bundles for KSh500 (US$5.80), KSh1,000 (US$11.50) and KSh2,000 (US$23.10) for making and receiving voice calls as well as sending SMS messages and accessing the internet.
In a statement, Safaricom said: "The East Africa Bundles comes in four options. Customers can either select voice bundle, SMS bundle, data bundle or receiving calls bundle option. Each bundle has Lite, Medium and Heavy subscription plans to cater for customers' usage patterns."
The bundles are set to reduce the costs subscribers incur while roaming with their local lines in East Africa.
For example, the new voice roaming charges in bundle in Rwanda for outgoing calls to Kenya are set to save a subscriber KSh73.33 (US$0.85) per minute, KSh8 (US$0.10) per SMS and KSh22.50 (US$0.26) per MB when using the new bundles.
According to Safaricom, the new rates are constant, meaning there is no discount benefit if you opt for more expensive bundles.
Subscribers can access the tariffs by dialing *100# and selecting East Africa Bundles.
The service is available to Safaricom pre-pay customers roaming with UTL or MTN Uganda, Vodacom Tanzania and MTN Rwanda.
Safaricom had recently increased its roaming charges to East Africa after the other East African Community (EAC) countries increased taxes for incoming calls from Kenya, increasing the cost to communicate within the region.
Currently Safaricom charges (out of bundle) KSh25 (US$0.30) to receive calls in Tanzania, Uganda, South Africa and the United Kingdom.
Safaricom subscribers who make calls while in Tanzania are charged KSh75 (US$87), KSh85 (US$98) in Uganda, KSh110 (US$1.27) in South Africa and KSh325 (US$3.26) from the United Kingdom.
Data charges are relatively high compared to the call charges. Per 10KB worth of data, subscribers are charged KSh350 (US$4.04) in Tanzania, KSh750 (US$8.67) in Uganda, KSh450 (US$5.20) in South Africa and KSh1,200 (US$13.86) in the United Kingdom.
Bob Collymore, Safaricom chief executive officer (CEO), has been urging governments to consider easing taxes levied on mobile operators within the region in order to put an end to high roaming charges.
However, in what has been seen a growing standoff between Safaricom and the Kenya government, Fred Matiangi, cabinet secretary for ICT, has been urging networks to lower their roaming charges for international calls saying operators are charging unrealistic rates, which are affecting regional integration within East Africa.