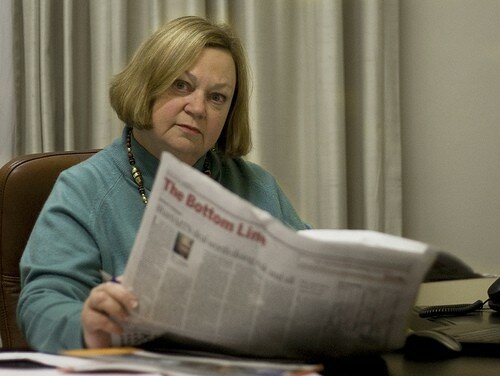 Marian Shinn. Image courtesy of The Democratic Alliance.
Marian Shinn, the Democratic Alliance's (DA) shadow minister for communications, has called for an open briefing of parliament regarding the South African Broadcasting Corporation (SABC) ZAR19.5 million (US$1.9 million) criminal investigation into its own behaviour.
Yunus Carrim, the government's minister for communications, has requested Eric Kholwane, chairperson of the portfolio committee, hold a closed meeting on the matter, which centres around criminal prosecutions that arose from the Special Investigations Unit.
Shinn has said her and the DA would boycott any briefing if it was held in an open environment.
"Minister Carrim should be as frank as possible on the years-long investigation without infringing on the legal rights of those not yet criminally charged," said Shinn. "I will request that the Minister reconsider the closed briefing in the spirit of openness and transparency.
"The Minister should rather, in an open committee, brief us on each case, without naming those not yet charged, as well as giving us the names of those formally charged, as that information is in the public domain.
"Anything else will be deemed to be a cover-up or lethargy on the part of the SIU and SABC to adequately deal with the wide-ranging corruption that brought the SABC to its knees four years ago."
The DA is specifically requesting an open briefing to include the number of active cases and those concluded, how many employees investigated are still employed by the SABC and the reasons for the protraction of ongoing cases.
It has previously been stated 300 of the 1,465 employees investigated have had disciplinary action taken against them.
Shinn said: "In order to root out corruption at the public broadcaster, it is necessary that the appropriate action is taken against any and all employees guilty of corrupt activities.
"A frank discussion in an open committee is the surest way to go."