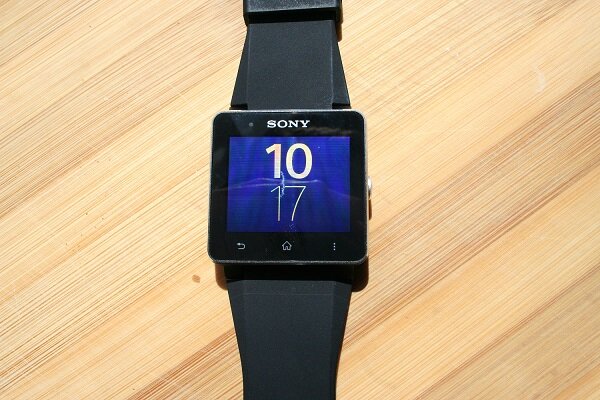 The Sony Smartwatch 2.
After the splash that smartphones and then tablets made, the next frontier for tech firms are set to be 'wearables'. A year ago not many people would have heard a lot about smartwatches, except perhaps for the Pebble.
A year on, the picture looks markedly different, and the Bandwidth Blog's Theunis Jansen van Rensburg takes a look at Sony's latest offering in the segment:
Sony is one prominent player in the smartwatch market, and despite the name it is actually Sony's third attempt. The Sony SmartWatch 2 is certainly a promising device, seeing that it comes from one of the giants in the industry with many years' experience and also having a couple of devices under the belt as to refine the smartwatch further. So, can Sony show the newcomers how it is done?
Hardware
Right off the bat we can see a smartwatch is a different kettle of fish when it comes to hardware – vastly removed from what we expect from smartphones and tablets. First and foremost, it is a watch. So it needs to fulfil its functional purpose, yes, but a watch has for years also been linked to style, sleekness, image and fashion. Therefore a smartwatch must have these basic attributes and then also what supposedly makes it 'smart.'
The difficult part of creating a smartwatch is that what looks good to me will probably not look that great to a lot of other people. That is why we see the multitude of different watch designs, so how can a smartwatch cater multiple tastes? The fact is – it can't. So it's up to you to decide what you think about the looks. I, for one, really like it. It isn't bulky, and doesn't look out of place in public. I actually thought I would feel a bit of a fool walking in the street or sitting in restaurants, but that wasn't the case at all. People actually seemed more intrigued and interested, and no one seemed to think it strange.
If you are familiar with Sony's Xperia products, you will definitely recognise the device as a Sony long before seeing the insignia. That means a square face with rounded corners, nice edges and flat sides. The strap on our model is a basic rubber affair; it's practical, at best. It feels a lot softer and more comfortable than it first looks, but it's not at all jazzy – and we like it that way.
It has bezels which also reminds us of the Xperia devices, moderate and sleek. It has a 1.6-inch TFT display, coming in at 176 pixels per inch. The reality is that you will use it mostly to glance at from time to time and swipe from side to side sometimes. You can look at the time without needing to unlock the device (unlike the Galaxy Gear) – which is done by pressing the one aluminium button on the side – and the screen works well for navigating menus. Some have complained that the responsiveness can be sluggish, but I never had this problem.
The only other feature of the design is the flap covered micro-USB port for charging. There are more than just aesthetic reasons for having a sealed charging port: the SmartWatch 2 carries the same IP57 dust- and water-resistance rating as the Xperia Z. Sony say that it is more for splashed when washing your hands than being submerged in water, but the IP57 rating actually means it should be able to be underwater for 30 minutes at a depth of 1 meter without suffering adverse effects.
Companion App and Watch Software
As I stated in my first impressions right after receiving the device, smartwatches we have seen so far all rely on some kind of companion application, meaning that the "smart" capabilities of the watch comes from your companion device. With the Sony it is the same. As I also noted, the process is extremely simple. There was no need to read instructions or fiddle with different settings. Simply use the NFC on your devices to quickly pair the two with a simple touch, or pair with your Bluetooth after installing the Connect application for the device from the Play Store.
It is important to note that this smartwatch will work in conjunction with any Android smart device running Android 4.0 or higher. This immediately gives it an advantage over the Samsung Galaxy Gear, which will only work with Samsung devices (and not many). I tested it with the Sony Xperia C, a Galaxy S4 and my two year old Nexus, without any problems with connectivity or difference in performance.
What I really enjoyed was the ease with which I was able to customise the watch from my smartphone. The settings for the device are always readily available through your notification tray. One swipe and tap and you are in the companion app. From there it is easy to find recommended applications for the watch (which come directly from Sony), or you can browse the App Store for dozens of apps to use, from games, notifications and fitness software. There's also a settings app on the watch itself, and this is where you can control some of the more practical features such as turning Bluetooth on/off, toggling vibrate, choosing watch faces, enabling or disabling some default apps, triggering master reset and so on.
You will certainly need apps to add functionality. There were more than I thought there would be, being that the device is backwards compatible. It is actually possible to load apps that were designed for the previous versions of the smartwatch. The not-so-good news is that much of the selection isn't really worth getting excited about. There are plenty of apps that don't work that well, or aren't really useful or practical. This is hopefully set to change over time. I think the most disappointing thing was the fact that a lot of the apps are actually very expensive, and given limited functionality I couldn't justify many of the buys. I would make a purchase, use it for five minutes and then get a refund from the Play Store.
Notifications are in essence what this device is all about for me. You wouldn't want to read a lengthy mail on the small screen (and can't), but being able to glance at your watch and know if that beep from your pocket is worth your attention is the whole point of this category right now. The Gmail notifications show you the email's sender, along with a quick snippet of the text. It's usually enough information to let you know if it's something you urgently need to attend to or ignore for now.
One of the places I found the device most useful was while on the road. We all know the feeling when you are expecting a message or a call and can't look down at your phone. Well, now you simply scan your wrist to see what is happening without being distracted. On the flip side, perhaps, is basic call handling. As there's no speaker or microphone, all you can really do is reject or answer a call from the watch face. Answering a call is really only a useful option when you're wearing a Bluetooth headset.
User Experience and Performance
Many people have asked: "What is the point of a smartwatch?" To my mind, it has been designed to fill a specific, albeit small gap in our tech filled lives, namely the gap between your hand and the device in your pocket. Importantly, the display is visible in bright daylight – even without the backlight on. Happy days, it works as a watch.
What about the 'smart' performance aspects of the device? In a nutshell, I found it acceptable, if not exemplary. As I stated before, the responsiveness is good enough for this kind of device. You shouldn't expect that you would need to swipe through the screen of a smartwatch for minutes at a time like you would on a smartphone. In fact, there won't ever be many home screens, and it has few menus.
One aspect that caught me off guard a couple of times is the strength of the vibrations from the notifications. Its strength can't be set anywhere on the device, but it won't bother you in the long run. It simply took me a couple of hours to get used to. In fact, if the vibrations were a bit milder, I think one aspect would be even better: the battery life. It is great to have a smartwatch that easily lasts 3-4 days with heavy use on one charge. Not only that, the rate at which the device charges is epic. You can have it fully charged in about 30 minutes from empty.
The overall feeling you get after using it for an extended period of time is one of elation as Sony kept it simple. Essentially, if you can work a touchscreen phone, you know how to use the SmartWatch 2. The companion app for the host phone might be basic, but it provides the access you need without getting in the way. I really appreciated that simple and intuitive user interface and experience, with one exception – it would have been great to set things like the alarm from the app.
Conclusion
When compared to the obvious competition, The Samsung Galaxy Gear, it does come in at a much more compelling price – ZAR2,299 (US$226). That being said, you don't have a microphone and camera like on the Samsung equivalent. But it is compatible with any Android device running Android 4.0 and above, which is a major advantage over its counterpart.
Unlike a phone, what you want to get from a watch will differ greatly from person to person. The SmartWatch 2 is a well-built product that doesn't have a wince-inducing price. It offers a reasonably good notification solution, as well as the potential for improved functionality with future apps that will certainly hit the market. The bottom line is: If you want a bit of a "gadgety" smartphone-companion, predominantly for notifications, the SmartWatch 2 will certainly fill that role. If you are looking for more, you might need to wait for the technology to evolve a bit further.