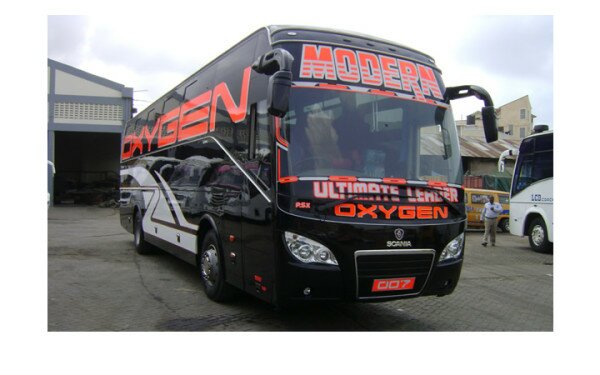 CC Image courtesy of website
Modern Coast Express Limited, a Kenyan bus company offering travel services across East Africa, has responded to online complaints regarding its poor service delivery and is now carrying out an upgrade.
The company offers two varieties of bus services from the country's capital Nairobi to Mombasa, including one dubbed Oxygen, which offers clients access to internet and requires the customer to pay an extra cost over the price of a normal bus.
Through an online platform offering Kenyans an opportunity to report sub-standard services, Makena Onjarika details her recent encounter travelling with one of the buses in the Oxygen fleet, saying there was no internet and the air conditioning system was broken.
"The bus did not have internet and the hostess claimed not to have been previously aware of the problem," writes Makena.
"I informed the Modern Coast Express through several channels; I dropped in at the manager's office on arrival in Mombasa to complain but received no apology. I went further and wrote the company a formal complaint through their website contact form and sent a duplicate through their Facebook page."
Other Kenyans took to commenting on the post detailing their experiences travelling with Modern Coast, with some saying the online schedule and booking service offered by the company is always faulty.
"I booked two seats online for the Nairobi-Mombasa bus that according to the website was to leave at 10.45pm. I paid via M-Pesa and printed my online tickets only to get a call at around 10.00pm that the bus was not available and the system was wrong," writes Soni Maina on the platform.
Hasshim Hasham, the chief finance officer (CFO) replying to the complaints, said: "On behalf of Modern Coast I would like to apologise on your experience on board our bus. We welcome you to view and confirm that the changes have already been done and all the valid complaints have been taken care of.
"We appreciate the complaints you have brought to light which will furthermore assist us in making sure we meet the high standards our travelers expect from our services."
In a recent update Makena said following the invite she was able to view two of the Oxygen buses saying the internet was working and the air conditioning system had been fixed with others yet to undergo repair.
The bus company offers Kenyans an opportunity to book a ticket online through their website and pay for it through Safaricom's M-Pesa.