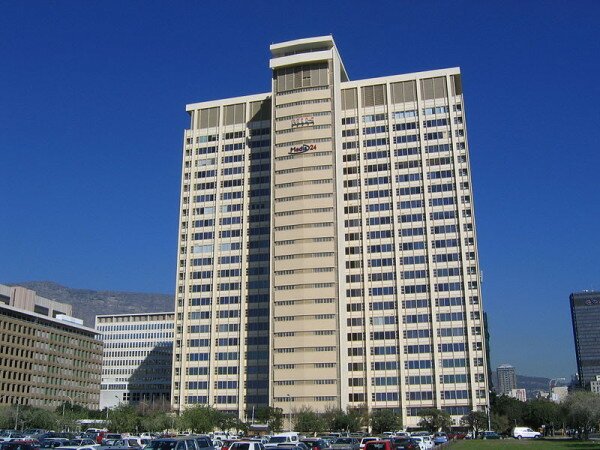 The Naspers office in Cape Town, South Africa.
Naspers' internet businesses are now providing more revenue than its pay-TV interests, with its top-line growth increasing by 28 per cent during the past six months.
The multimedia company, which owns giant media brands such as MultiChoice, DStv and SuperSport, but also has internet companies including kalahari.com, FixeAds and Flipkart, is reporting a 76 per cent revenue growth across all of its internet platforms to to ZAR24.9 billion (US$2.5 billion).
Overall consolidated revenue has increased by 28 per cent to ZAR28.8 billion (US$2.9 billion) for the six months ending September 30, 2013, with its Chinese internet service portal Tencent contributing ZAR4.4 billion (US$436 million) and Russian internet company Mail.ru contributing ZAR405 million (US$40.1 million) to core headline earnings.
"In recent times the composition of Naspers has changed. Offshore revenues now exceed those generated in South Africa, whilst internet has surpassed pay-TV as our main business," Koos Bekker, Naspers chief executive officer (CEO), said.
"We are busy building e-commerce platforms, in particular online classifieds, and are rolling out digital terrestrial television (DTT) across more cities in West and East Africa."
Naspers revenue from e-commerce interests almost doubled to ZAR7.9 billion (US$783 million), but there was an overall trading loss of ZAR1.8 billion (US$178 million) due to high investment in "marketing, people and product" of ZAR2.3 billion (US$228 million).
Steve Pacak, Naspers financial director, said the company will increase the pace of its investment in "new growth opportunities… sharply" over the next few months.
He said they to spend around ZAR7 billion (US$694 million) during the full financial year up to March, compared to ZAR4.3 billion (US$426 million) last year.
"As this investment is made largely through the income statement, it will have a dampening effect on both earnings and cash flows," he added. "However, we expect these growth opportunities to deliver shareholder value over the long term."