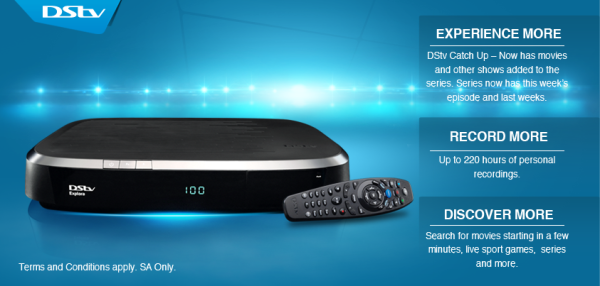 DStv Explora decoder
MultiChoice Kenya has launched its next-generation PVR decoder, the DStv Explora, aiming to give viewers more control and personalise their digital television viewing experience.
HumanIPO reported yesterday (Monday) the Explora introduces additional new features and offers more recording space, providing DStv subscribers with more entertainment.
Stephen Isaboke, regional director at MultiChoice East Africa, said: "It is another innovation which bears testament to our continued investment in technology to ensure DStv delivers the best television experience in Africa.
"The Explora forms part of the continent's fast technology developments and ensures that our subscribers get the best viewer experience. The absence of high speed broadband access for most of Africa means delivering content via our satellites remains the most reliable way to ensure our subscribers get the best television, without buffering or waiting for downloads from the internet."
The DStv Catch Up service has been significantly expanded on the Explora and now offers three times more video-on-demand programming to DStv subscribers.
MultiChoice has expanded the number of series available and now also introduces series stacking, which makes two episodes of selected series available on demand to be later expanded to four episodes.
MultiChoice said the Box Office service is currently not available in Kenya, but expect to launch it in the near future.