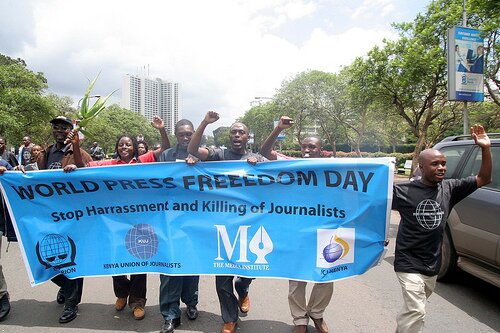 CC image courtesy of IREX on Flickr
Kenyan journalists and stakeholders will hold countrywide demonstrations today (Tuesday) in protest against President Uhuru Kenyatta's proposed changes to a controversial media bill which he declined to assent into law.
Kenyatta vetoed the bill last week following its approval in parliament, but then proposed a series of changes that members of the media argue are even worse than the original law.
Officials representing journalist associations have notified the police on the planned demonstration, during which they will present a petition to parliament.
David Ohito, Editors Guild vice chairman, said: "The demonstrations are countrywide. The bills are bad; they are gagging the media with their draconian provisions. The Media Owners Association and the Kenya Editors Guild are with us on this journey."
Kenya Correspondents Association (KCA) chairman Oloo Janak also said all journalists have been mobilised at the county level and in major towns.
"Preparations are complete and we have put measures in place to ensure it becomes a success and all our colleagues are part of the protest," said Janak.
HumanIPO reported last month that Kenyatta's proposed changes include transferring control of institutions that can punish journalists and their employers from the National Assembly to the executive branch.
In addition, Kenyatta's amendments retain the proposed KSh20 million (US$230,000) fine against media houses, KSh500,000 (US$5,750) for individual journalists and expand offences for which they can be punished by the government-controlled Communications and Multimedia Appeals Tribunal.