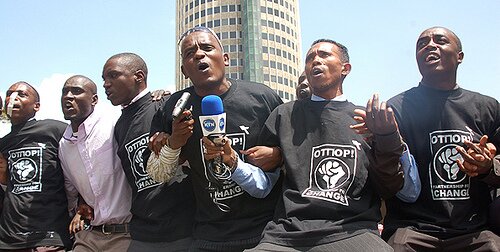 Kenyan Journalists at a previous Demonstration CC image courtesy of mwalimu.mati on Flickr
The Media Council of Kenya (MCK) has come to an agreement with Kenyan legislators to amend contentious issues in the Kenya Information and Communication Amendment (KICA) Bill.
MCK said the deal, which was struck with the Parliamentary Committee on Energy Communications and Information, will see the KICA bill regulate infrastructure issues and other services.
"The KICA Bill will only regulate infrastructures issues in connection to the media which include licensing, signal distribution, courier services, postal services, and telecommunications," said Grace Munjuri, chairperson of the Ethics and Public Information Committee.
She said the amendments will not only protect the rights of the media stakeholders, but will also ensure that journalists exercise responsible reporting.
The agreement will also see the parliamentary committee amend the bill to ensure all issues to do with ethical conduct of journalists and media houses be handled by the Independent Complaints Commission of the MCK and not the proposed Communications and Multimedia Appeals Tribunal.
"Further, the fines of KSh20 million (US$230,000) for a media enterprise and KSh500,000 (US$5,800) for journalists will only apply to persons and media industries that contravene the provisions of the Act and not matters related to the Code of Conduct for the Practice of Journalism," said Munjuri.
Also to be amended is the nomination of members to the appeal tribunal where they agreed that members will be nominated by a selection panel from the media, which shall forward the name of the chairperson and members.
Munjuri said: "The decisions made at the Media Council can only be appealed at the High Court and not through the proposed tribunal which has no jurisdiction over ethical issues in the industry."
HumanIPO reported yesterday (Tuesday) Kenyan journalists and stakeholders had held countrywide demonstrations in protest against President Uhuru Kenyatta's proposed changes to the KICA which he had rejected and sent back to parliament with recommendation.