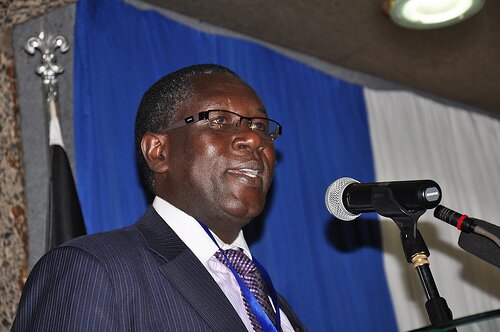 CCK Director General Francis Wangusi CC image courtesy of chimgimode2007 on Flickr
The Communications Commission of Kenya (CCK) has announced it will start auditing quality of service (QoS) on non-voice communication services after a huge influx of customers using devices for non-voice.
The regulator said it is seeking consultants to advise on a comprehensible and effective QoS measurement and monitoring regime.
According to CCK's ICT Sector Quarterly Statistical Report for the fourth quarter of the financial year 2012/13, published last month, total local mobile traffic declined, recording a total of 7.1 billion minutes compared to 7.18 billion in the previous quarter.
CCK said at the time "the decline in mobile voice traffic could be due to availability of other more affordable communication alternatives such as SMS and other mobile applications such as WhatsApp that have continued to gain popularity and hence affecting growth in local mobile traffic".
Conversely, the total number of SMS messages sent stood at 4.3 billion, up from four billion posted in the preceding quarter, averaging 47 SMSs per subscriber, per month.
The report also said the overall mobile voice traffic per subscriber dropped from 81.1 minutes recorded in the previous quarter to 78.4 minutes.
The CCK said the report shows as customers are increasingly moving towards non-voice services, telecommunications companies will cease to see the importance and value of current voice parameters.
The regulator said the successful bidder will be tasked with developing a framework and methodology to be used in undertaking QoS measurements.