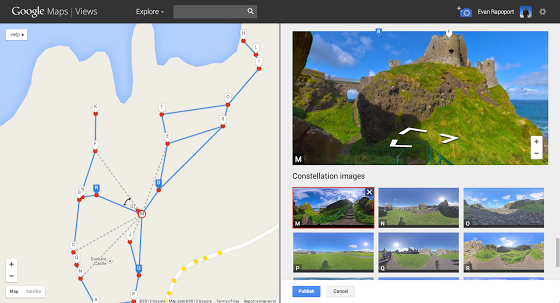 Google has launched a new Google Maps feature that lets users create and share their own Street View paths from photos and location data.
Using Photo Sphere, Google said users can use a DSLR or Android phone to easily create 360º virtual tours of the places they love and share them on Google Maps.
Users have been able to add Photo Spheres to Maps since 2012, but the new feature allows them to stitch together the images to create a Street View-style tour.
"This feature can now enable environmental non-profits to document and promote the beautiful places they strive to protect," Evan Rapoport, product manager of Google Maps and Photo Sphere, said in a blog post.
"It also opens up a new tool for photographers to showcase diversity in a specific location – by times of day, weather conditions or cultural events – in a way that Street View currently doesn't cover."
Currently, the Photo Spheres which are uploaded can be made public to all on the main Google Maps, but the actual Street Views are only visible if users have a link to them or have embedded them on a webpage.