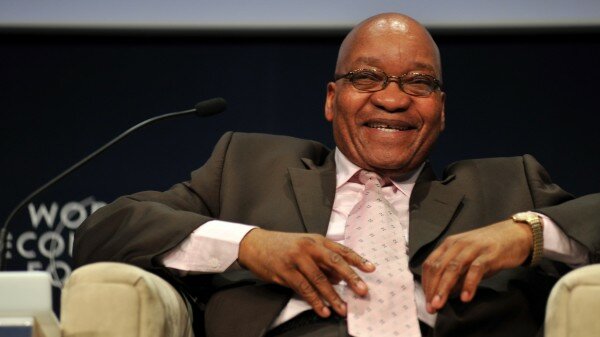 President Jacob Zuma. CC image courtesy of the World Economic Forum.
The South African Broadcasting Corporation (SABC) has denied allegations by the City Press newspaper it banned broadcasts of President Jacob Zuma being booed during Nelson Mandela's memorial service in Johannesburg on Tuesday.
The City Press reported yesterday six independent sources in the SABC news division had said instructions were given to ban broadcasts of the booing, saying the live feed at the stadium showed an image of Mandela for half an hour rather than Zuma and national television news editor Nyana Molete ordered the studio to cut away from booing of the president.
The sources said this policy followed a decision in a meeting prior to the broadcast to avoid broadcasting any incident that could embarrass the African National Congress (ANC) leadership.
SABC spokesperson Kaizer Kganyago, however, responded to the City Press, denying the allegations of censorship and saying the SABC does not even own a screen at the stadium.
"The South African Broadcasting Corporation (SABC) rejects all the allegations made by the City Press and regard them as irrelevant and unsubstantiated," he said. "SABC has allocated most of its resources to cover the Madiba story as a top story with a great worldwide interest. As a public service broadcaster and on official broadcaster for the Madiba funeral and all related events we will not be derailed from doing so by the side stories that emerge."
He said: "The millions of South Africans and people all over the world including the media expected us to show the memorial service of Madiba as it is, and the SABC heeded this call and showed the 'booing' or the said incident as we carried the live broadcast."
Kganyago did however say the SABC had the power to broadcast was it deemed fit, and that the bigger story in this case was the memorial itself rather than the booing of Zuma.
Though eNews and eNCA made the booing their headline story, SABC "all but ignored it", the City Press said.
"It is the prerogative of the SABC to decide to use its discretion in line with its editorial codes and what it deems as top story for the day," he said. "The memorial of Madiba and how his life was celebrated with various people around the world sharing their moments and experiences with Madiba remains important to the world and not the incident you are referring to."