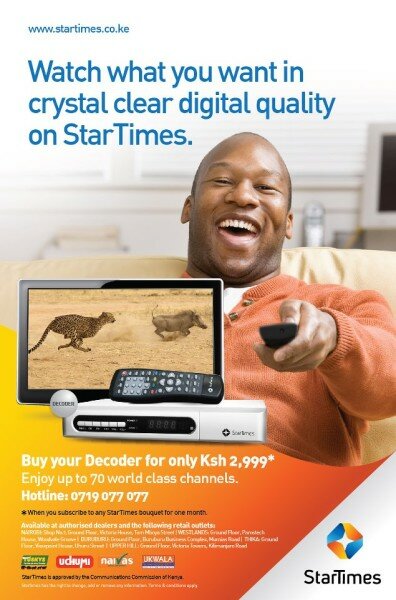 Kenyan pay-TV provider StarTimes has announced it will provide access to at least six free-to-air channels upon the expiration of a subscriber's monthly subscription.
The company said subscribers on the platform will have two-week access to KBC, Citizen TV, KTN, NTV, K24, GBS and STV-Guide upon the expiry of their monthly subscription, allowing for a grace period awaiting subscription renewal.
StarTimes chief executive officer (CEO) Leo Lee said the company was keen to maintain its vision to ensure the majority of Kenyans have access to digital television.
"We are setting the pace in ensuring that our subscribers enjoy the flexibility that comes with uninterrupted television access. We are guided by our vision to see the majority of Kenyans can not only access but also afford premium digital television service," said Lee.
"The two week access to local channels after subscription expiry will allow for adequate time to budget for a service that continues to be more of a necessity than a luxury."
StarTimes subscribers using the free-to-air set-top box will continue to access over 20 local channels as it has a dual feature enabling them to subscribe to the paid channels at will while continuing to access the local channels for good upon the expiry of their monthly subscription.
"We have made stringent efforts to distinguish between our Pay Television and Free To Air decoders key in making sure that our customers are aware of what exactly they will be getting on purchasing either of the two," said Lee.
The move comes a month after the company slashed the cost of acquiring both the StarTimes pay-TV and free-to-air decoders.
 HumanIPO reported last month StarTimes was adding new channels to its platform which will be available on its digital transmission, ahead of Kenya's planned analogue switch-off.
Kenya's High Court has issued a ruling temporarily suspending Nairobi's planned digital migration to December 23, 2013, to allow the determination of a suit filed by three media houses challenging the migration.