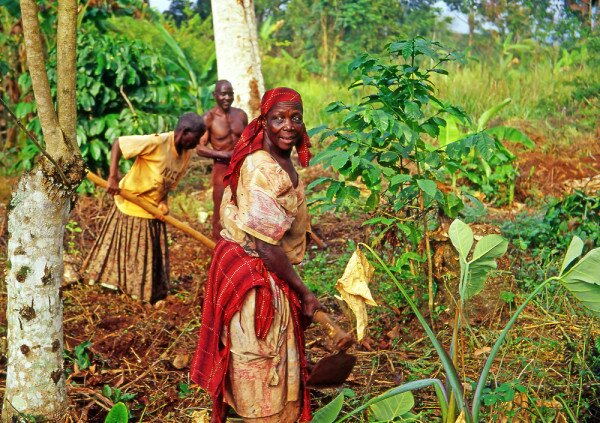 Farming: http://www.shutterstock.com/pic-129626816/stock-photo-buikwe-region-uganda-july-an-unidentified-farmers-working-on-their-fields-on-july.html?src=6z9SVQNcqOiFeVnAgITdFg-1-0
A Tanzanian developer has created an Android application aiming to boost the production of farmers in the East African country, who currently suffer from a lack of market information.
Benson Rukantabula, developer of Kilimo fasta, told HumanIPO the app was inspired by a study released by the Planning Commission of the Tanzanian President's Office, which highlighted low agricultural productivity due to a lack of farming skills and a failure to disseminate market information.
He said the study had recommended a central agricultural repository unit for information and data management, and that his app filled this role as an information hub connecting farmers with information from government and other stakeholders.
"The app provides suggestions to crops that can grow in Tanzania," he said. "To each crop there is information about the whole production cycle, like when to grow, how to grow, when to harvest, and pests and insects to control."
Farmers can subscribe to Kilimo fasta via email or SMS, and receive updates about crops and market information, while also allowing farmers to keep in touch and participate in discussions. The app is in Swahili, a language used by 80 per cent of the Tanzanian population, and runs on Adobe Air, requiring internet access only when an update is needed.
He said the app differed from M-Farm and iCow in Kenya because of its use of Swahili, and the fact it integrates SMS subscription, as well as providing information about banks and other financial institutions that provide loans to farmers.
Tanzania's agricultural sector employs over 80 per cent of the country's population, contributing around 50 per cent of its gross domestic product (GDP) and 66 per cent of merchandise exports, and Rukantabula said the uptake of mobile phones in the country could boost it further.
"The purchase and use of smartphones in Tanzania is blossoming," he said. "More people are using mobile phones than a few years back. I think if good investment is made on mobile apps and USSD development the industry can generate even more income for the country and benefit many farmers."
Kilimo fasta does not yet have any funding, being only a month old and still in a testing phase, but Rukantabula said he is looking for funding from stakeholders and elsewhere.
The app recently competed in the final of the Vodafone Appstar Challenge, eventually being beaten to the top prize by Kenyan app Automs.gs., but Rukantabula said it had been a good experience.
"The Vodafone Appstar Challenge helped me get confidence, exposure, and has broadened my mindset about app development," he said. "The feedback from the judges has challenged my thinking and motivated me on what should be my next step in my career."
Image courtesy of Shutterstock.