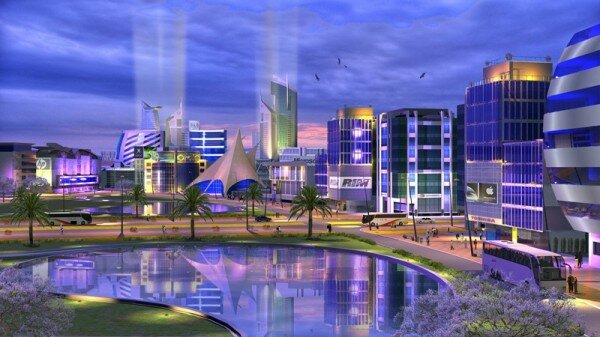 An artist's impression of the Entry Plaza to Konza Tech City. Image courtesy of Konza Techno City.
"Smart cities" such as Kenya's Konza Techno City and Ghana's Hope City could result in worsening marginalisation and inequality within the communities near which they are built, according to a report by a professor at the University of Cape Town (UCT), South Africa.
Professor Vanessa Watson, of the African Centre for Cities at UCT, writes in her report, entitled "African urban fantasies: dreams or nightmares?" and published by the International Institute for Environment and Development, that projects such as Konza and Hope City, along with others across the continent, could threaten the land of the urban poor and mobilise them against the developments.
"Labelled as the "last frontier" for international property development, Sub-Saharan Africa's larger cities are currently being revisioned in the image of cities such as Dubai, Shanghai and Singapore, which claim top positions in the world-class city leagues," Watson writes. "Draped in the rhetoric of "smart cities" and "eco-cities", these plans promise to modernise African cities and turn them into gateways for international investors and showpieces for ambitious politicians."
Watson said, however, these projects are in "stark contrast" to conditions of urban populations "living in deep poverty and with minimal urban services", and could indeed make the situation worse.
"These new urban visions and development plans appear to disregard the fact that at the moment, the bulk of the population in sub-Saharan African cities is extremely poor and living in informal settlements," she writes. "Some of these settlements are on well-located urban land that is also attractive to property developers. Attempts to implement these fantasy plans within existing cities will (and is already) having major exclusionary effects on vulnerable low-income groups through evictions and relocations."
Watson uses Konza Techno City, 60 kilometres from Nairobi, and Hope City in Accra as examples of the problems caused by such projects, highlighting disputes with local communities in both cases.
Konza has already been at the centre of local disputes, with ICT cabinet secretary Fred Matiangi saying bylaws will be introduced to prevent the establishment of informal settlements within 10 kilometres of the city.
In a blog post, Baraka Mwau writes that landowners near Konza had anticipated the city would create jobs for locals and demand for their projects, but in reality properties that fall within the 10-kilometre radius are earmarked for demolition. There has also been an increase in land speculation in the area, and the impact on farmers remains to be seen.
In Ghana, meanwhile, the site for Hope City was recently shifted from Dunkunaa to a larger site at Prampram, but Watson writes "Dunkunaa residents claimed the project had incurred the displeasure of the gods when the developers refused to acknowledge the chiefs and elders of the area".
Watson said the impact of these projects on poorer urban dwellers would be felt most directly when such initiatives attempted to remake an urban area in the image of others considered "world class".
"Kigali and, to a lesser extent, Addis Ababa seem to be currently subject to these kinds of make-overs, and their extensive shack populations are being systematically moved to make way for the new projects," she said. "Many other cities (such as Nairobi) are responding to the very real problem of traffic congestion by planning new systems of freeways and fly-overs that carve their way through older and poorer urban areas. These cater directly for the still small, car-owning middle class, but are of little help to the majority of people who travel on foot."
She writes it is access to the land by the urban poor that is most directly threatened by the likes of Konza and Hope City, with access to the land also determining access to urban services, livelihoods and citizenship.
"These visions and "master plans" may or may not materialise or may be implemented in part, and much will depend on local political factors and the extent to which economic growth in Africa's emerging economies continues," Watson said.
"It will also depend on the extent to which the various urban groupings disadvantaged by these processes are able to collaborate and resist. There is no doubt that the scale and extent of change envisioned in these plans might be sufficient to mobilise shack dwellers, unemployed youth, local informal and formal business and the NGO sector at a citywide scale, to effectively counter these interventions."