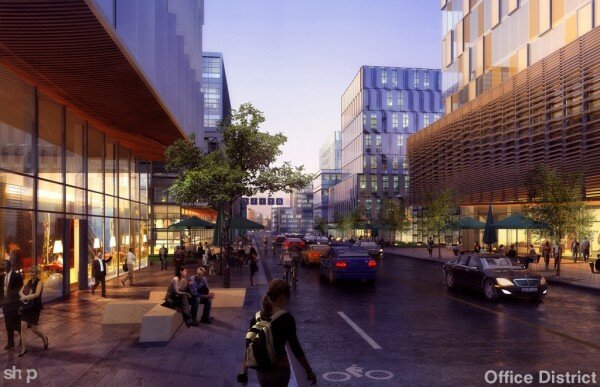 Artist Impression of Office District Konza Techno City
Kenya's multi-million Konza Techno City project is under threat after a fresh tussle concerning its location, with Makueni County and Machakos County both claiming ownership of the city.
Yesterday (Tuesday) political leaders from Makueni, Kajiado, Machakos and government officials converged in a closed door forum to discuss the recent publications of a zoning plan for the Konza City buffer zone published by the director of physical planning in July.
The plan had placed Konza City in Machakos, contrary to a document in the Ministry of Lands that indicates a large portion of the city will be in Makueni County, with Machakos and Kajiado enjoying a 10km buffer zone – a document the cabinet secretary for ICT, Fred Matiangi, disassociates himself from.
"The bill that we are taking to cabinet and which is enroute to parliament will have a schedule that describes what actually constitutes Konza in term of area," said Matiangi.
The new map, titled Konza Techno City Buffer Zone Regulation Plan, indicates the site of the city has completely been carved from Makueni and lumped in Machakos County.
There have been claims that Machakos governor Alfred Mutua was in charge of the latest zoning while his counterpart senator, Johnstone Muthama, has allegedly been eyeing the surrounding land for speculative purposes.
Speaking to the media after the closed door meeting, Matiangi said that they have made headway with the talks and the project is still on course.
"Within Konza the roads that we need to do is moving the power in, providing water in the area, doing sewage pipes which the president has instructed should commence before Christmas this year," he said.
Konza Techno City aims to foster the growth of the technology industry in Kenya.
It is a Kenya Vision 2030 flagship project and will sit on 5,000 acres, a part of the national blueprint to create a competitive and prosperous nation with a high quality of life by 2030.
In a recent official visit to the East, President Uhuru Kenyatta urged China to invest in the project, saying both countries can candidly explore opportunities of mutual benefit where businesses and citizens can commence the work of sustaining and accelerating growth.
More than 300 investors and business partners have shown interest in directing massive resources in Konza Techno City.