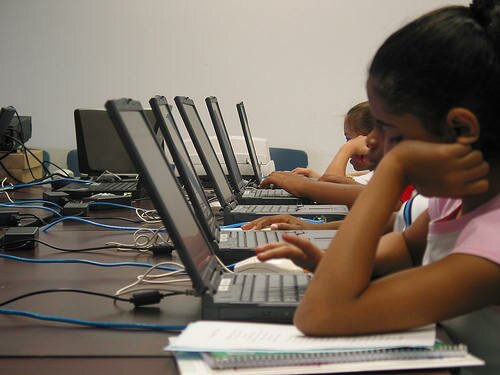 CC image courtesy of arlington.library on Flickr
PC shipments in Kenya fell 10.7 per cent year-on-year in the fourth quarter of last year following the implementation of value added tax (VAT) charges on electronic goods, though East Africa as a region saw some growth.
HumanIPO reported in September on the new Kenyan VAT law, which adds a 16 per cent tax on all ICT products, which had previously been exempt.
The International Data Corporation (IDC) said this has had a direct impact on PC shipments in Kenya.
"As forecast by IDC, the new VAT law had a debilitating impact on the PC market in Kenya, with shipments contracting 10.7 per cent year-on-year in Q4 2013," said James Mutua, a research analyst at IDC East Africa. "The bill's introduction, which sees a levy of 16 per cent added to all ICT products, resulted in a huge loss of business due to logistical issues caused by the hasty implementation of the new regulations by the Kenya Revenue Authority (KRA)."
HumanIPO reported last week Nokia East Africa had said its sales fell 20 per cent in the three months to December last year following the implementation of the tax.
However, the IDC said PC shipments to East Africa as a whole increased three per cent year-on-year, reaching 140,251 units, with "strong gains" in Uganda, Tanzania, and Ethiopia offsetting the poor performance in Kenya.
"However, Ethiopia, Tanzania, and Uganda all performed much more strongly, recording impressive year-on-year PC shipment growth of 31.7 per cent, 18.7 per cent, and 20.1 per cent, respectively, thanks to an improved and continually expanding business environment and increased consumer spending," said Mutua.
Shipments of desktop PCs to East Africa declined 3.3 per cent to 48,652 units, which the IDC said is "on par with the worldwide trend of consumers shifting to portable PCs due to their inherent mobility benefits". Portable PC shipments increased 6.8 per cent in the same period, though this growth was slower than expected after Samsung reduced its shipments into East Africa.
The IDC expects the share "all-in-one" (AIO) desktop PCs in the region to improve during this year with the arrival of more vendors bringing down prices.
Government sector spending on IT in Kenya, the IDC said, will be "hit hard" in 2014 following a Treasury directive to all government departments to freeze all purchases of computer equipment as part of cost-cutting measures.