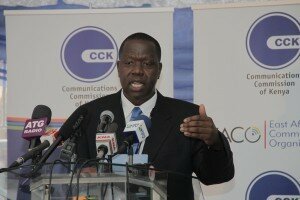 Fred Matiangi, cabinet secretary for ICT. CC image courtesy of CCK
Kenya's cabinet secretary for the Ministry of ICT Fred Matiangi has warned the new ICT Authority board members over succumbing to corruption.
HumanIPO reported last month Matiangi had appointed six members to the Kenya ICT Authority board, allowing the process of recruiting a chief executive officer (CEO) to begin.
The appointees are Timothy Waema, Esther Njeri Kibere, Bertha Joseph Dena, Elijah Omwenga, David Mugo and Ugas Sheikh Mohamed.
"You come in at a very challenging time when government is investing heavily in ICT, " Matiangi said while inaugurating the board in Nairobi. "Public interest must come first because there is going to be serious investment now and in future."
The Kenya ICT Authority was formed in August last year, merging the Kenya ICT Board, Directorate of eGovernment and Government Information Technology Services (GITS) in a move to consolidate all IT functions under the Ministry of ICT following a directive issued by President Uhuru Kenyatta in June calling for the consolidation of all state ICT agencies into one ICT body.
Part of its mandate involves the procurement processes involved in the Konza Technology City project.
Matiangi's appointments have been controversial, with the Information Communication Technology Association of Kenya (ICTAK) challenging them.
"Paragraph 6 (2) (e) of legal Notice 183 of 2013 provides that not more than six persons, not being public officers, be appointed, the Cabinet Secretary proceeded to include persons who are public officers as per under Article 260 of the Constitution of Kenya," said Kamotho Njenga, secretary general of ICTAK, in a statement.
Njenga also said the appointments are required to be staggered so the respective expiry dates of the board member's contracts fall at different times, and called on Matiangi to revoke the appointments.
The cabinet secretary, however, called these claims "petty" and described ICTAK as "idle".
"This was deliberate because we want to take standards higher," he said of his appointments. "They have engaged in… research for many years and they will come up with seamless policies.
"ICT Authority is already working on validating and updating the National ICT Master Plan 2017, and also collaborating with the counties in coming up with their ICT Masterplans. These documents will prioritise key projects will contribute to our transformation agenda. My expectations are that the board will hasten and provide strategic direction towards the implementation key projects."
Principal secretary at the Ministry of ICT Joseph Tiampati and new ICT Authority chair Edwin Yinda called on the public and private sectors to align their ICT projects to the National ICT Masterplan 2017 currently under revision.
"All government institutions must stop all new ICT projects and first seek guidance and approval from the ICT Authority," said Yinda.