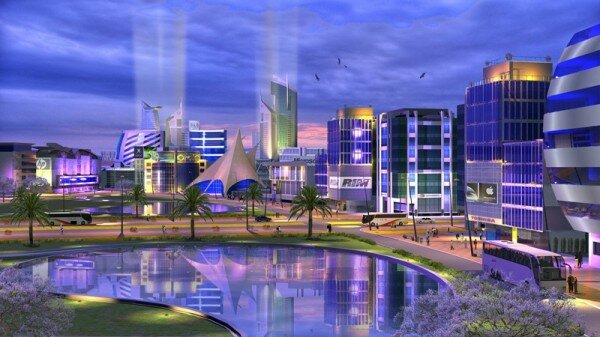 An artist's impression of the Entry Plaza to Konza Tech City. Image courtesy of Konza Techno City.
Kenya's National Environment Management Authority (NEMA) has approved the master plan for the site of Konza Techno City, giving the project legal clearance to embark on planning, design, construction and operation.
In a statement on its Facebook page, the Konza Technopolis Development Authority (KoTDA) said it had "taken a critical step forward in fulfilling its mandate to help transform Kenya into an ICT business hub" following NEMA's positive Strategic Environmental Assessment (SEA) survey.
KoTDA chairman John Ngumi said the approval was a major milestone for KOnza, which is the flagship project of the Kenyan government's Vision 2030 objectives.
"We shall now commence work on the infrastructure necessary to make Phase I a reality, subject of course always to our obtaining other regulatory approvals as and when necessary, and subject also to ensuring compliance with procurement rules", he said.
The survey involved extensive studies of the site's environment, including socio-economic, demographic and natural resources features, the impact of Konza on the environment, and the how the city's developers plan to manage environmental risks.
NEMA director general Prof Geoffrey Wahungu said Konza had gone through "rigorous" environmental checks to protect the surrounding environment.
"We are impressed by the level of professionalism and global best practice Konza City has demonstrated in developing its multi-phased master plan. KoTDA strictly adhered to laid down procedures and the documentation on file is solid," he said.
Konza will have to continue to submit Environmental Impact Assessment surveys (EIAs) to NEMA for each further phase of the project, which will commence this year and has a completion deadline of 2018.
Vision 2030 Delivery Secretariat acting director general Prof Wainaina Gituro said Kenya was in a good position to achieve almost all its flagship projects within their scheduled timelines.
"As you may be aware, within the last five years, the Vision 2030 Delivery Secretariat has successfully managed to co-ordinate the rollout of key flagship projects covering the economic, social and political pillars geared at fostering national development," he said.
HumanIPO reported last month Konza Techno City and other African "smart cities" had come in for criticism from University of Cape Town (UCT) professor Vanessa Watson, who said in her report, entitled "African urban fantasies: dreams or nightmares?" and published by the International Institute for Environment and Development, Konza and projects like it could result in worsening marginalisation and inequality within the communities near which they are built, threatening the land of the urban poor and mobilising them against the developments.