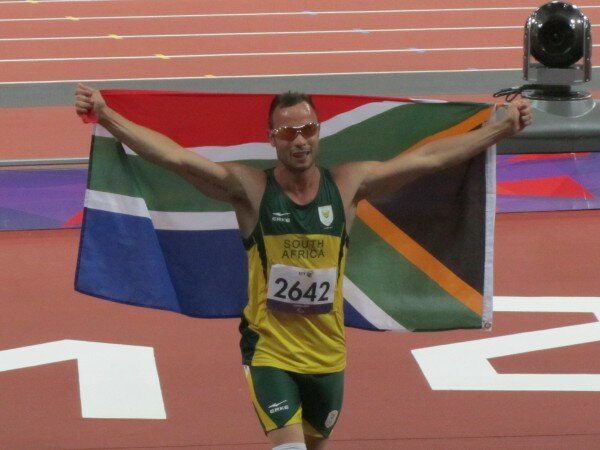 Oscar Pistorius (CC image courtesy of Chrishmt0423 on Flickr)
The judge hearing arguments for and against the live broadcasting of the trial of South African paralympian Oscar Pistorius has reserved judgment until next week, with MultiChoice requesting permission to broadcast the trial using tiny spy cameras.
Advocate Frank Snyckers for the DStv broadcaster said "the most remarkable and revolutionary camera technology" would be used at the trial, namely, tiny "spy cameras" hanging from the ceiling of the courtroom.
According to Snyckers, the hanging cameras would ensure an "unfiltered" broadcast of the proceedings, without any "distortion".
The advocate for MultiChoice also pointed to the use of Twitter in court, saying members of the public and journalists will be live-tweeting the case anyway, which creates the potential for misreporting or distortion.
"We are offering the unfiltered truth – the whole truth and nothing but the truth," Snyckers said.
In addition, the lawyer argued, without live broadcasting only privileged members of the public – those with internet and Twitter access – will be able to follow the trial, whereas a live television broadcast would provide transparent information and access to everyone in society.
Further, Snyckers revealed the National Prosecuting Authority (NPA) has agreed to the live broadcasting, and will not be opposing the application, under the condition that any witness who does not give consent to being televised will not be, with cameras turned off for the duration of such evidence.
The presiding judge would also be able to switch off the cameras if they were deemed to be disruptive or contrary to a fair trial, the lawyers for the applicants argued.
However, the advocate for Pistorius, Barry Roux, said the witnesses and Reeva Steenkamp's family object to the live broadcast of the case, claiming the witnesses feel they will be intimidated by the televising of their testimony.
Roux also said witnesses will be able to watch and hear each other testifying, which may alter their own testimony, lead to witnesses refraining from giving contradictory answers or admitting mistakes, and essentially lead to an unfair trial.
Requesting a ban on all televising of witness testimony, Roux nonetheless accepted for opening statements and legal arguments to be broadcast live.
Meanwhile, advocate Nick Ferreira also applied for permission for two still cameras to be present during the trial on behalf of the print media, in order to take photographs of the proceedings.
HumanIPO reported the magistrate hearing the charges and bail application last February did not allow live broadcasting, although the bail ruling was broadcast live via a bespoke YouTube channel.
In January MultiChoice announced it will launch a dedicated pop-up "carte blanche" DStv channel for the duration of the Pistorius trial, providing 24 hour coverage, documentaries, profiles and analysis connected to the case – which begins March 3.