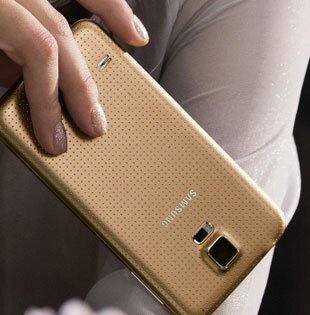 Samsung has unveiled the Galaxy S5 handset, saying the device is designed based on "what matters most" to consumers.
Samsung said the S5 "redefines how technology enhances our lives", featuring what the company claims to be the most advanced LTE and Wi-Fi performance available to date.
While supporting a large number of LTE frequencies and LTE standard 4, as well as fifth generation Wi-Fi, Samsung highlighted the device's Wi-Fi Booster feature, which bonds Wi-Fi and LTE simultaneously to achieve the fastest data speeds.
The S5 also features state-of-the-art biometric finger scanning technology for locking the device, and provides secure mobile payment capability.
"With the Galaxy S5, Samsung is going back to basics to focus on delivering the capabilities that matter most to our consumers," said JK Shin, president and head of IT & mobile communications division at Samsung.
"Consumers are looking for mobile tools that inspire and support them as they improve their everyday lives. The Galaxy S5 represents an iconic design with essential and useful features to focus on delivering the ultimate smartphone on the market today through people inspired innovation."
The handset also includes a 16 megapixel camera, with Samsung claiming the camera offers the world's fastest autofocus speed of 0.3 seconds. The camera also offers a range of advanced photography features.
The manufacturer revealed the new device has S Health 3.0 technology loaded onto it, providing users with a comprehensive personal fitness monitor including pedometer, diet tools, as well as a built-in heart rate monitor.
Samsung said the S5 design is "modern" and "glam", coming in four colours to "complement the style of the individual consumer", and being both dust and waterproof.
The predecessor to the S5, the S4, was launched by Samsung in March last year, including the much anticipated "smart scroll and smart pause" feature which monitored users' eye movements, though this feature is missing from the S5.
Shortly after it was named the top-rated smartphone in the world, dethroning the LG Optimus G, by independent, non-profit product testing outfit Consumer Reports, and by October last year had sold 40 million units.