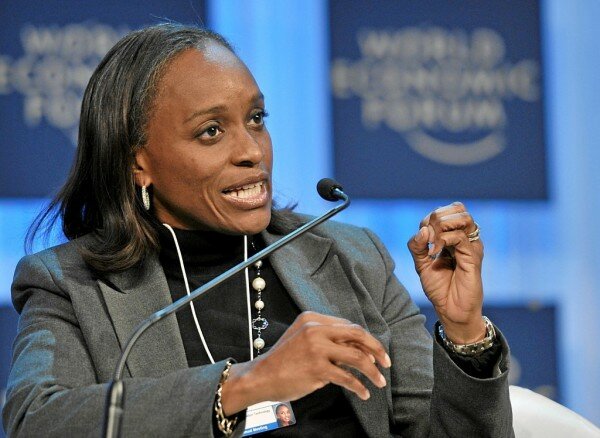 Omobola Johnson, Nigeria's communication technology minister. CC image courtesy of the World Economic Forum, on Flickr.
The ongoing efforts of Nigeria's Ministry of Communication Technology to increase broadband penetration will be boosted by the Smart States initiative of the ministry in partnership with Lagos state and Abuja Federal Capital City.
Speaking on the initiative at the first Nigeria multi-stakeholder forum organised by the Alliance for Affordable Internet (A4AI) in Abuja, Omobola Johnson, minister of communication technology, said the initiative is on a quid pro quo basis that will create an enabling environment and prioritise the rollout of telecoms infrastructure in the respective states.
"The initiative will prioritise investment in ICT within nine months and the states will be able to see the results of the initiative," Johnson said.
"Engaging with the states is the biggest challenge which is why there has been limited progress on Right of Way (RoW) and multiple taxation. We are trying to get state governments to understand why they should not tax input; instead, we are asking them to tax output."
She said actions need to be taken to tackle incidences where eight different agencies are imposing taxes on a base station that is just 10 metres by 10 metres in dimension.
"Most of those taxes are not imposed on other structures in the same area," she said.
To this effect, she said her ministry is working on harmonising regulations across federal government agencies including the National Environmental Standards and Regulations Enforcement Agency (NESREA), the Nigerian Communications Commission (NCC) and the weights and measures unit of the Federal Ministry of Industries, Trades and Investments (FMITI).
Other measures Johnson mentioned include "licensing of seven infrastructure companies to roll out metro rings in six geopolitical zones and Abuja – this will redress the monopolisitic and anti-competitive actions that we see in the market today and will successfully integrate all parts of our broadband delivery value chain."
She added: "In addition to these initiatives we are also rolling out initiatives through the Universal Service Provision Fund (USPF) that will provide connectivity to unserved and under-served areas."