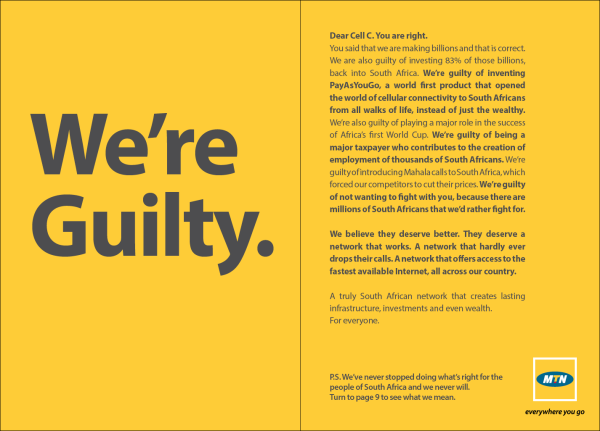 South Africa's second operator MTN has launched an advertising campaign hitting back at rival Cell C, admitting to being "guilty" of making high profits which it says it reinvests in the country in a bid to improve communications.
HumanIPO reported in February Cell C launched an aggressive advertising campaign against MTN over its legal challenge regarding the new mobile termination rate (MTR) regulations introduced by the Independent Communications Authority of South Africa (ICASA), with the campaign ordered to be withdrawn by the Advertising Standards Authority (ASA).
In a two-page advertisement published in the Sunday Times newspaper yesterday, MTN wrote its own sarcastic text, addressed "Dear Cell C", alongside a large picture stating simply "We're Guilty".
"You are right. You said we are making billions, and that is correct. We are also guilty of investing 83 per cent of those billions, back into South Africa," MTN said.
The advert went on to list a number of contributions by MTN to the communications sector in South Africa, such as the introduction of prepaid calling plans for the first time and the launch of Mahala calls, which MTN said forced competitors to cut their prices.
"We're guilty of being a major taxpayer who contributes to the creation of employment for thousands of South Africans," said MTN.
"We're guilty of not wanting to fight with you, because there are millions of South Africans that we'd rather fight for."
MTN also took aim at the quality of Cell C's network, saying South Africans deserve "a network that works".
"We believe they deserve better. They deserve a network that works. A network that hardly ever drops their calls. A network that offers access to world-class internet, all across our country," the operator said.
"A truly South African network that creates lasting infrastructure, investments and even wealth. For everyone."