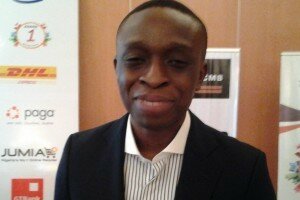 Tunde Kehinde, co-founder and managing director of Jumia Nigeria. Photo by HumanIPO.
Building a brand consumers can trust through convenience, good customers service and a positive online experience is central to success in e-commerce, according to Tunde Kehinde, former managing director (MD) of Jumia Nigeria.
Kehinde, who resigned as Jumia Nigeria MD last month, was speaking at the ongoing Africa's Payments, Banking and Retail Show 2014 in Johannesburg, South Africa.
He said building a successful e-commerce venture included a complete package of expertise, funding, a strong team and low prices, but building trust was the most important aspect.
"E-commerce is a new thing and people will wonder can they trust this brand. Trust was a big factor. If I order off these guys will they deliver to me?" he said.
"The key is always having trust in the back of your mind. The biggest search term for us was "Jumia office". People want to see for themselves."
Kehinde said Jumia had managed to obtain this level of trust from its customers through warranties on products, a free returns policy and its Pay on Delivery service, with the latter bridging the gap between consumers and retailers.
"There is this tension between consumers and retailers, and our aim was to remove that tension," he said.
"It means more than sitting behind a computer to order. It means creating a good environment for shopping online. And central to that was Pay on Delivery. This ended up being about 80 per cent of our orders. After two or three orders of pay on delivery we then started to see pay on site."
He said good customer service is also crucial to building a successful e-commerce brand, with Jumia Nigeria employing a team of 85 customer service assistants seven days a week.
"The idea is that you must replicate the quality of service people receive in the western world," Kehinde said.
For Jumia, providing good customer service even involved the company building its own delivery fleet, which now comprises 100 vehicles delivering to every state in Nigeria.
"We can't afford to as a DHL or FedEx and the local players do not have the technology to scale with us. So we had to build our own fleet."