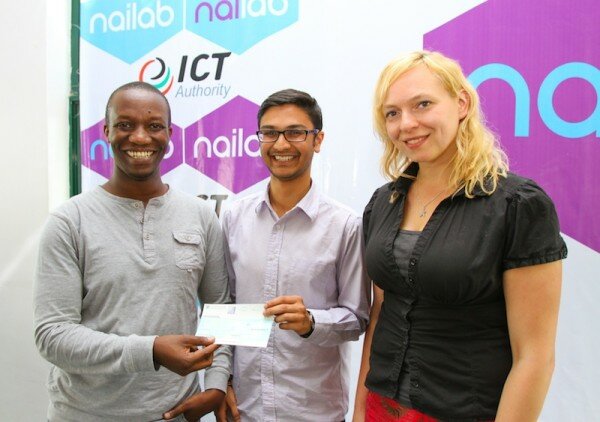 Nailab CEO Sam Gichuru, SokoText founder Suraj Gudka and 1%Club co-founder Anna Chojnacka
SokoText, an SMS service tackling food insecurity in Kenya's urban slums, has won the Crowdfunding Bootcamp held by Nailab, 1%Club and Accenture, taking home prize money of KSh300,000 (US$3,500).
HumanIPO reported yesterday the Nailab incubation centre saw six ICT startups launch their products at the event, officiated by Ministry of ICT cabinet secretary Dr Fred Matiangi.
SokoText emerged the winner for its solution, which seeks to tackle food insecurity with an SMS solution which helps small scale vegetable retailers aggregate daily orders, while online property listing platform Keja Hunt and fashion designer Young Freddie came in as first and second runners-up, winning KSh90,000 (US$1,000) and KSh60,000 (US$700) respectively.
Suraj Gudka, SokoText founder and chief executive officer (CEO), said: "As an entrepreneur, I am very grateful for this opportunity and the chance to get to understand how crowdfunding operates and how I can maximise its benefits for the growth of the venture."
The bootcamp, which brought together a total of 19 ventures in different spheres, saw the entrepreneurs develop crowdfunding campaigns and learn about crowdfunding as an alternative source of startup capital.
"There are several sources of startup capital. There is bootstrapping, a situation where an entrepreneur attempts to found and build a company from personal finances or from the operating revenues of the new company, then there are angel investors, venture capitalists and credit facilities from financial institutions," Nailab CEO Sam Gichuru said.
"Crowdfunding is a channel that has been scarcely exploited by many entrepreneurs and has a lot of potential as an entrepreneur does not have to give up equity or accumulate any debt."
"Our greatest desire is to make great ideas possible and help make small ideas big through facilitating their funding on our platform. I am impressed at the quality of solutions that have been showcased and the entrepreneurs' quick adoption of the crowdfunding concept," said Anna Chojnacka, co-founder of 1%Club.