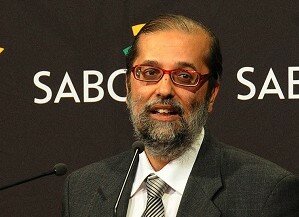 Yunus Carrim. CC image courtesy of GovernmentZA on Flickr.
South African minister of communications Yunus Carrim has welcomed the investigation into misconduct and maladministration at the Universal Service and Access Agency of South Africa (USAASA).
HumanIPO reported this week president Jacob Zuma had ordered the Special Investigation Unit (SIU) to look into the conduct of employees.
The part state-owned universal access agency's mandate is to ensure "every man, woman and child whether living in the remote areas of the Kalahari or in urban areas of Gauteng can be able to connect, speak, explore and study using ICTs", though last year the Department of Communications launched an investigation into the agency for corruption allegations.
Carrim said the matter has been dragging on for too long and an investigation into the agency's actions is needed.
"We welcome the SIU Proclamation on USAASA. Obviously it is regrettable, but the Proclamation is absolutely necessary in view of the persistent allegations against USAASA, and the USAASA Board and CEO's [chief executive officer] flat rejection of them," he said.
"USAASA has a crucial role in delivering ICT services to the poor and disadvantaged, and cannot have this cloud of controversy over it. With the finalisation of the SIU investigation, USAASA will be far better placed to focus on its mandate to deliver to the poor."