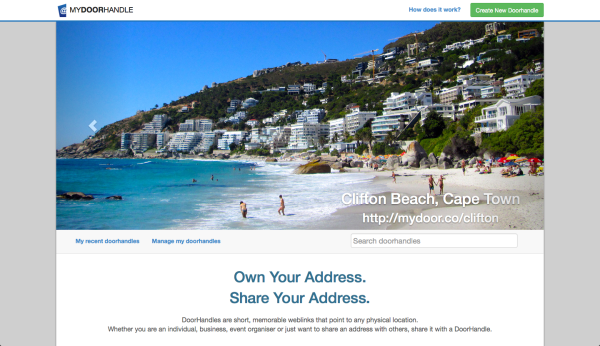 Cape Town-based mapping startup mydoorhandle has redesigned its website and released an API, adding additional functionality and convenience to the platform.
The company provides a way to virtualise an address, creating a "door handle" and allowing a link to be generated that can be shared with others and saved in an address book much like a telephone number.
"I think [the redesign] will help us gain traction, along with our Android app," founder Steven Ellis told HumanIPO.
"Because there are a few players like this on the market, I think success will depend on who takes hold first."
The redesigned website is mobile responsive and the company will soon have applications for BlackBerry and iOS alongside the Android application.
"The new site is about minimising the steps a user has to follow in order to create a door handle. In the old site it used to be page one, finding the location, page two, name the location, and page three, fill in whatever other details there are available to add to it," said Shaamiel Gabier, lead developer at mydoorhandle.
"We have basically managed to streamline the functionality into one process. Before there used to be three buttons and now you are only clicking one."
The company has also introduced an API for developers.
"We're hoping it will replace contact forms with maps on the side showing where the location is," said Gabier.
HumanIPO reported last year the company had been selected to attend the Blackbox Connect Summer Programme in California, United States.
"It (Silicon Valley) is the pinnacle of IT infrastructure and networking, venture capital (VC), that kind of blazes the trail and it would be great to see how it operates, how people network, how VC gets raised there, speak to the other entrepreneurs and just get exposed to Silicon Valley," Ellis said before the event.