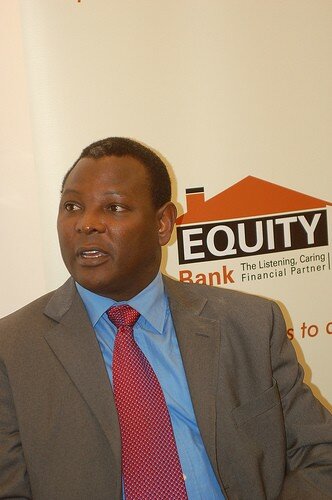 Dr.James Mwangi, Equity Bank Group chief executive officer (CEO) and managing director CC image courtesy of whiteafrican on Flickr
Leading Kenyan operator Safaricom is opposing Equity Bank's plans to launch telecommunications services, saying the technology it plans to employ puts users at risk of fraud, according to a report.
Last month,Equity Bank announced plans to issue subscribers with ultra-thin SIM cards, allowing them to access mobile money accounts provided by the bank while saving them the trouble of migrating networks.
The ultra-thin SIMs sit on top of an already existing chip provided by other operators so subscribers can access a mobile money account and telephony services from competition operators without owning a dual SIM or two mobile phones.
However,Business Daily reports Safaricom chief executive officer (CEO) Bob Collymore as saying Equity Bank should be prohibited from issuing the SIM cards due to potential security risks.
The company wants the Communications Authority of Kenya (CAK) to invite the GSMA to assess the risk the SIM technology poses to other operators and subscribers.
"In the meantime, we call on the Communications Authority to prohibit its use in Kenya," Collymore is quoted as saying.
"It would compromise the security of the M-Pesa system and consequently expose our 19 million M-Pesa subscribers to irreparable harm."
Equity Bank has dismissed Safaricom's concerns as baseless.
"The opposition by Safaricom is speculative and would require technical proof. To the extent that the thin SIM has not been rolled out, they cannot allege [any risks exist] without proof," said Equity Bank chief executive officer (CEO) James Mwangi.