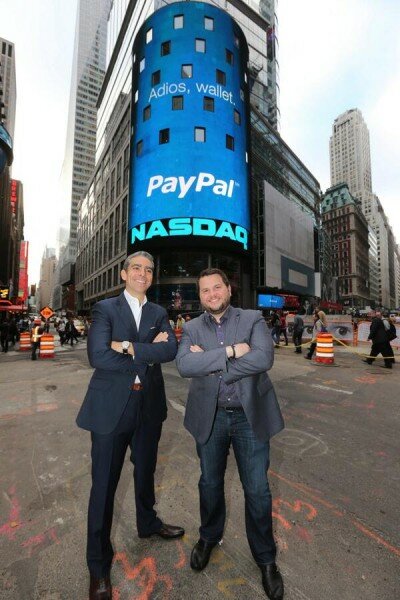 David Marcus, president at PayPal, and William Ready, co-CEO at Braintree. Image courtesy of PayPal.
Nigeria's oldest commercial bank, FirstBank Nigeria, has been announced the official partner of PayPal in Nigeria.
HumanIPO reported last month PayPal had become available in ten new markets, with Nigeria and Zimbabwe added to the platform to take the number of markets it operates in to 203, and Efi Dahan, PayPal's regional director of Sub-Saharan Africa and Israel, announced the FirstBank partnership yesterday.
He said the partnership with FirstBank is similar to the ones PayPal has with First National Bank (FNB) in South Africa and Equity Bank in Kenya.
"This is how we work in Africa and we will continue to work that way," he said.
"PayPal and FirstBank have a similar focus on innovation and I am very confident as we officially commence this partnership. PayPal is here for the long-term, we are here to stay. We are here to build the e-commerce market in Nigeria," he said.
Bisi Onasanya, group managing director of FirstBank Nigeria, said the partnership would break the barrier of e-commerce and e-payment to Nigerians.
"Nigerian cards used to have limited acceptance by international merchants. But it is no longer possible for Nigeria to be isolated; it is now important that people's desire for online purchases underscores necessity for internationally acceptable e-payment," Onasanya said.
"This partnership is driven by the quest to provide best financial services anywhere in the world. The partnership will change the face and habits of e-commerce in Nigeria."