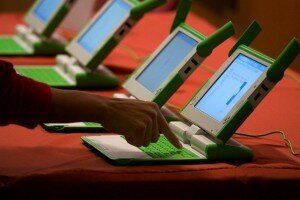 CC image coutersy of Marcin Wichary
The Jubilee government's key election pledge of one laptop per pupil survived another scare from the National Assembly yesterday (Thursday) after government members of parliament (MPs) shot down an amendment seeking to increase the budgetary allocation to the Teachers Service Commission (TSC).
The Kenya National Union of Teachers (KNUT) had demanded the money set aside for the laptops by president Uhuru Kenyatta's government be diverted to pay salaries.
Jakoyo Midiwo, Gem MP and deputy minority leader, had moved an amendment to the Appropriation Bill which if passed would have reallocated money from the scheme to pay teachers higher salaries as their strike entered the fourth day, reported Standard Media.
An appropriation is a legislative motion that authorises the government to spend money where it sets money aside for specific spending and approval of the legislature is mandatory.
Midiwo sought allocation to the teachers be increased by KSh47 billion (US$548 million) by taking away the budgeted KSh53 billion (US$618 million) for the laptops project.
The MPs also rejected Bomet Central MP Ronald Tonui's amendment which sought to reduce the allocation for the Ministry of Education to KSh 53.3 billion so as to allocate the TSC Ksh24 billion (US$230 million).
Tonui said there were huge variations in commuter allowance for teachers, therefore his proposal will harmonise the allowance with those of public servants.
"Teachers are the only ones who are never paid leave allowance," he said.