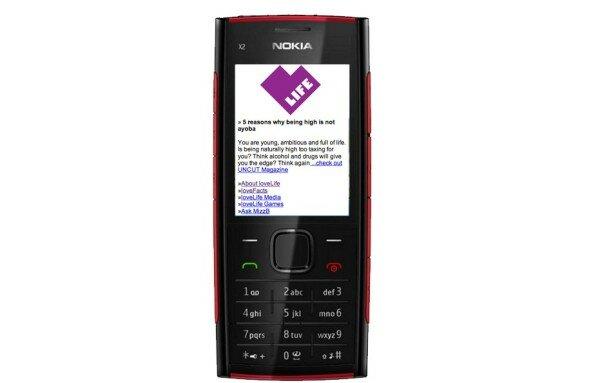 Image courtesy of Mxit.
Leading South African HIV prevention organisation LoveLife has launched on chat app Mxit to provide mobile-based counselling services to youth members.
Subscriber numbers have shot up to 97,000 within less than 20 days since it was released last month on Youth Day.LoveLife sees the mobile expansion as an addition to provide support channel accessibility.
More than 20,000 messages have been exchanged to date with more than 5,000 subscriber-counsellor interactions within the first 10 days.
Precious Magogodi, executive manager at the LoveLife call centre, said: "We are always looking for new and innovative ways to connect with young people."
A "please call me" service has also been introduced since the Mxit-based launch, which makes counselling accessible without requirement of airtime credit.
Further counselling support is also offered through the programme's persona Mizz B, which responds as the advisor online through the official website, Facebook and in a column in the Daily Sun newspaper.
Text messaged-based counsel requests have surpassed the call rates, which indicates that mobile is more effective for youthful communication.
HumanIPO reported yesterday on Mxit as South Africa's top social network, according to a Generator Research report.
Magogodi motivated LoveLife's choice of the Mxit platform due to its low cost.
Mxit's simple-to-use ReachLive cloud series provides organisations with the ability to interact through a social exchange.
"The technology has a strong track record with a number of counselling services, such as Angel and Childline," the call centre manager said.
She added: "Mxit's target market is a natural fit with our own."
Andrew Rudge, head of Mxit Reach, said: "It's wonderful to see organisations such as LoveLife embrace the power of chat-based counselling."
Rudge believes Mxit's entertainment and social channel is enhanced by the support it can offer to its users to deal better with the challenges they face, enabling the chat app to play "a meaningful role".
With four live LifeLove counsellors at the moment, Mxit is prepared to increase the number to 20 based on demand.
Mxit counselling is available between 9am and 9pm on weekdays and from 12am to 5pm during weekends.