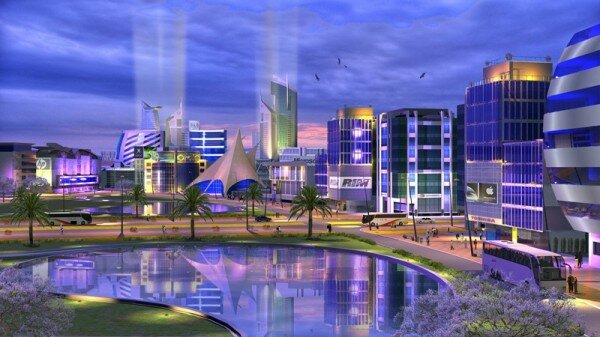 An artist's impression of the Entry Plaza to Konza Tech City. Image courtesy of Konza Techno City.
Kenya's Information, Communications and Technology cabinet secretary Fred Matiangi has asked MPs to fast track the Konza Technopolis Development Authority (KOTDA) bill when tabled in parliament later this month.
Speaking yesterday at a Nairobi hotel during a stakeholder's breakfast meeting on the KOTDA draft bill 2013, Matiangi said the bill will not only institutionalise KOTDA, but will also empower it to regulate the development, governance, planning, management, improvement and maintenance of the Konza Technopolis.
Matiangi added that the strategic importance of the technology city for Kenya and the region made it prudent for it to be governed by an Act of Parliament instead of a legal notice.
"We have a project and we need to move it forward," said Matiangi, appealing to leaders from the three counties hosting the technology city – Machakos, Makueni and Kajiado.
"Let us pass the bill. Whatever challenges we have lets negotiate and be willing to convince and to be convinced. We should not stall the bill on the basis of differences which can be resolved."
In a move to assure the governors of the three counties, Matiangi said there will be all inclusive consultations to come up with a formula on the percentage of revenue to be remitted to their counties.
The governors have been staking a claim of the revenue to be accrued from the technology city which falls in their jurisdiction.
He added the government has set up a Cabinet Committee composed of line ministries to look into mobilizing resources and spearheading infrastructure development.
Makueni governor Kivutha Kibwana while welcoming tax exemption provided in the bill, advised its drafters to ensure such a waiver is in line with the Constitution especially on the law on taxation.
Kibwana said the bill ought to have a clause acknowledging that Machakos, Makueni and Kajiado counties will benefit from the revenue accrued from the Technopolis city.
Kajiado County deputy governor, Paul Ntiati, supported Kibwana's proposal on benefit sharing on revenue.