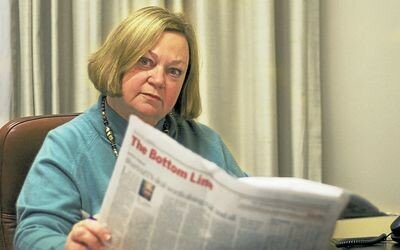 Marian Shinn. Image courtesy of the DA.
Marian Shinn, South Africa's shadow minister of communications for the Democratic Alliance (DA), has given a glowing report on the shortlist of 37 for board positions at the South African Broadcasting Corporation (SABC).
The communications portfolio committee, which is made of members from a cross section of the political parties, chose the candidates from 147 applications and interviews will begin on Tuesday.
Twelve names will then be submitted to the president for approval, with the board needing to be in place by the end of September.
Speaking to HumanIPO, Shinn said: "The shortlist contains some South Africans of exceptional and appropriate skills to guide the SABC's turnaround and set it on the path to gain credibility as a public – as opposed to state – broadcaster, ensure it is managed according to strict corporate governance criteria, is appropriately skilled at all levels and runaway staff headcount and wages are reversed."
She said she found it "gratifying" to see so many people of the appropriate calibre, skills and experience availing themselves to invest time in salvaging the SABC.
Shinn hoped the candidates' commitment is acknowledged and that the Communications Committee takes advantage as the final choices are made.
"My fear is that there are far more people of inappropriate skills and experience, who are politically connected, on the shortlist who will be used for election 2014 window dressing," she said.
"I would have little issues with these nominees if they have the appropriate business [and] broadcasting experience, but they don't."
It is Shinn's hope the Communications Committee has the long term interests of the SABC as its "main criteria" when the final 12 board members are decided upon.
"If the inclination is to score political points and place cronies in 'prestigious' posts to which they can make little practical contribution, we will contribute to the perpetual decline of the SABC," she said.