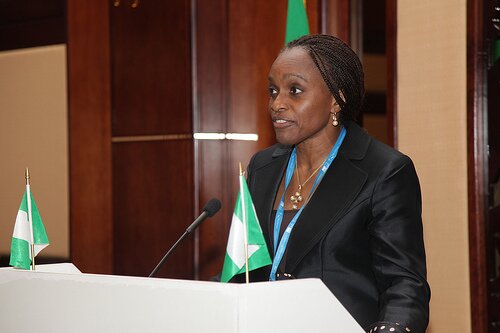 CC Image courtesy of itupictures on Flickr
Omobola Johnson, Nigeria's communication technology minister, has suggested the country's mobile networks, such as MTN, Airtel, Etisalat and Globacom, should be locally owned to ensure better services.
While Globacom is owned by the Nigerian Mike Adenuga Group, the others hail from South Africa, India and the United Arab Emirates respectively.
HumanIPO reporters Paul Adepoju and Richard Cutcher debate the issues.
The case for: Paul Adepoju
The US government recently overturned the decision of a court that banned the sale of some Apple products due to infringement on Samsung patents. Had the government failed to intervene the impact of the verdict, many experts believe, would have had untold effects on the American company and economy.
Across Africa, foreign telecoms companies are investing billions of dollars to generate profits of similar magnitude.
To their credit, they are contributing to the growth of the economy as shown in the announcement that the Nigerian telecommunications sector is contributing 8.3 per cent to GDP.
However, if African governments compel telecoms companies to become publicly listed on the local stock exchange, more funds would become available to improve service quality.
Furthermore, African nations can rest assured that the infrastructures are permanently here since the citizens own significant portions of the companies.
Despite being more ubiquitous and cosmopolitan than other networks, many Nigerians still believe the foreign company status of MTN allows it to take Nigerian subscribers for granted.
But when it becomes publicly owned, it will be compelled to share its enormous profit with some Nigerian subscribers that once got their credit wiped off due to an accidental "glitch".
The case against: Richard Cutcher
The comments made by Nigeria's communications minister Omobola Johnson while addressing the Nigerian Stock Exchange (NSE) can likely be categorised in one of two ways.
Either they were off-the-cuff comments with little substance or a signal the Nigerian government is planning a rather controversial, potentially damaging move against one of its biggest success stories.
The argument that more local ownership would lead to greater accountability falls down when examining recent events in Zimbabwe and Kenya.
Do Zimbabweans feel better represented on the Telecel board now Robert Mugabe's nephew, Patrick Zhuwao, has ridden in to save the company after it was originally declined a license renewal after falling foul of local ownership rules?
Prior to the Mugabe intervention, subscribers on both the Telecel and Econet Wireless networks suffered as the latter refused to connect to Telecel because of its sudden lack of license.
In Kenya, South African Dimension Data has side-stepped local ownership rules, allowing it to purchase AccessKenya after receiving special dispensation from the country's Capital Market Authority.
If such legislation is introduced in Nigeria, it will only serve to upset the global billion dollar companies, risking reduced investment in infrastructure, while increasing the chances of corruption and clever positioning by well-paid lawyers.