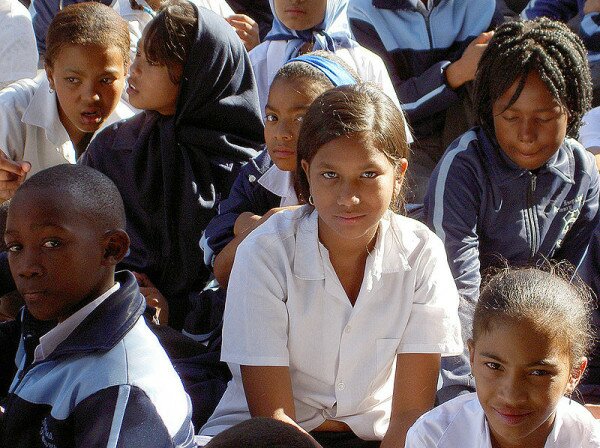 Mitchells Plain school kids. CC Image courtesy of Henry Trotter.
An anticipated partnership between the City of Cape Town and African internet project Project Isizwe will enable free Wi-Fi access to impoverished areas in Cape Town.
Established by former head of Mxit Alan Knott-Craig Jr this year, Project Isizwe has recently entered into an agreement to supply Wi-Fi to the City of Tshwane.
Negotiations for collaboration with the City of Cape Town will supply Mitchells Plain and Khayelitsha with free Wi-Fi around schools and libraries.
According to Knott-Craig, the project will amount to ZAR15 million (US$1.5 million), providing internet access until 2018.
Speaking to HumanIPO, the mobile expert said: "The devices are out there, people have a hunger to learn.
"The only thing missing is web access. The internet allows people to learn, apply for jobs and generally access information from which they've historically been ring-fenced."
Known as two of the poorest areas in the Mother City, success would lead to further roll out in Parow and Elsies River, extending progressively to all public and educational locations in Cape Town.
Knott-Craig said: "This is a way of getting the most cost-efficient telecommunications. The idea is to provide this to lower-income areas where in the end we provide a certain portion of internet access for free, the same as water and electricity, and this could be a way of starting that precedent in Cape Town," Cape Times reported.
Focusing on employment and education, municipality funds will be utilised and installations effected through IT partnership.
Collaborations with non-governmental organisations (NGOs) such as Wikipedia, the Khan Academy are also underway, of which content will be available at every point.
Demetri Qually, Mayco member for corporate services, said: "Our information technology and systems department has already been in discussions with their project team, and will continue to do so in order to establish potential synergies".