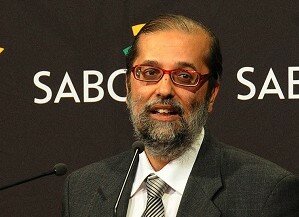 Yunus Carrim. CC image courtesy of GovernmentZA on Flickr.
The South African government is planning to introduce legislation which will prevent one broadcaster obtaining access to all sports and premium entertainment.
According to Yunus Carrim, the minister of communications, who spoke at the launch event of Africa News Network 7 (ANN7), the Department of Communications (DoC) will change regulations to stop one content provider from owning all broadcasting rights.
"We're working towards finalising a new policy on broadcasting and we'll have done so by the end of March 2014," Channel24 quoted Carrim as saying.
"The ministry is considering issuing a policy directive to the broadcasting regulator, ICASA (Independent Communications Authority of South Africa), to open up competition in this sector and to give the public more choice on channels and programmes."
MultiChoice, the pay-TV operator in control of DStv, which houses the SuperSport channels, and M-Net from Naspers currently dominate South Africa's TV landscape in terms of exclusive premium TV content.
"Currently premium content is locked up with one broadcaster, especially of our country's major sport - rugby and soccer needless to say, and cricket. We need to ensure that this becomes more accessible to the widest range of citizens possible," said Carrim.
However, Imtiaz Patel, group chief executive officer (CEO) of MultiChoice South Africa corrected Carrim on ANN7, saying: "All the best soccer in South Africa is available on SABC (South African Broadcasting Corporation) and all South African cricket played by the South African cricket team is also available on SABC mister minister, so I hope you're listening."
Subscribers may not be able to access sports and premium TV shows via a single platform and will have to subscribe to multiple operators for different packages.
Through this new policy free-to-air viewers may have access to more content through revised deals with pay-TV operators.