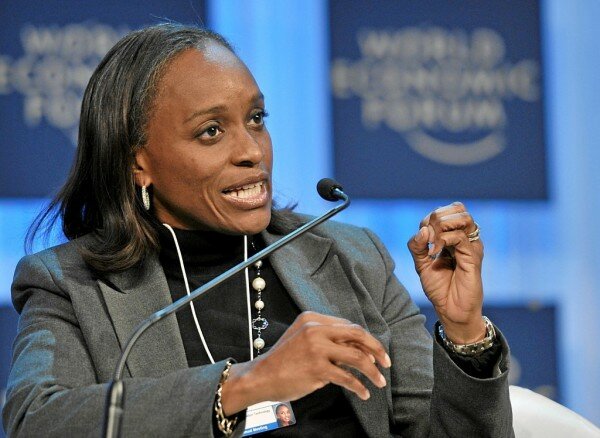 Omobola Johnson, Nigeria's communication technology minister. CC image courtesy of the World Economic Forum, on Flickr.
Omobola Johnson, Nigeria's communication technology minister, has said despite the ICT's sector positive contribution to the country's economy it can still do more to create jobs and wealth.
HumanIPO reported last week Johnson had told the Nigerian Securities Exchange (NSE) telecommunications had contributed 8.3 per cent of the country's GDP and was the fastest growing sector in the country.
The minister repeated that message when speaking at the National Council on Communication Technology (NCCT) Summit held in Ondo state.
"The ICT sector has made tremendous progress in the last ten to twelve years," Johnson said.
As well as highlighting its contribution to GDP, she said teledensity was 80.85 per cent in Q4, 2012, and internet penetration (subscriptions only) was 22.7 per cent, with more than 4,600 public access points to the internet across the country.
She added: "Despite this success, there are still tremendous opportunities for growth, job and wealth creation and it is the mandate of this ministry and by implication, I believe the mandates of the state institutions and organs responsible for ICT to tap into this opportunity."
To sustain current gains, Johnson called for synergy among national and sub-national institutions.
Concerning the NCCT, she said it was established to "facilitate inter-governmental consultations on ICT matters in order to avoid unnecessary disparities in ICT policies in Nigeria".
According to a statement made available to HumanIPO by Efem Akanga, special assistant to the communication technology minister, the council is divided into two arms – the ministerial meeting and official meetings.
"The council acts as a consultative body for the governments of the federation in matters pertaining to ICT with a view to achieving some degree of uniformity in the ICT sector," the minister said.
"The council is also to serve as a pool of information on all ICT matters for the governments of the federation. Each state government is therefore expected to forward information on developments in their localities and jurisdictions."