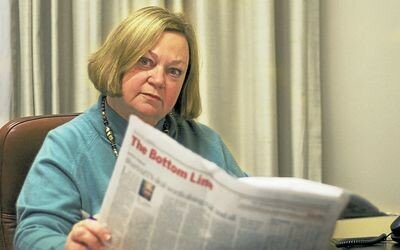 Marian Shinn. Image courtesy of the DA.
The Democratic Alliance (DA) has written to Ellen Tshabalala, chairperson of the South African Broadcasting Corporation (SABC) interim board, to request Hlaudi Motsoeneng, SABC chief operating officer (COO), does not implement the 70 per cent "good news" bulletins.
HumanIPO reported Friday on Motsoeneng's announcement, in which he said he wishes to implement 70 per cent happy news at the South African broadcaster.
"We will also request that she revoke the instruction of her predecessor, Dr Ben Ngubane, that gave Mr Motsoeneng the authority to oversee news coverage of the public broadcaster, and re-instate the group chief operating officer as the editor-in-chief," said Marian Shinn, shadow minister of communications for the DA.
Regarding the 70 per cent happy news implementation, Shinn said: "This is a clear indication that he plans to be the government's praise singer in the run up to the 2014 general election."
Shinn believes should this policy be implemented, it will be a violation of the SABC's editorial policy, the SABC charter as well as the Broadcasting Complaints Commission of South Africa's (BCCSA) code of conduct for free-to-air broadcasters.
Shinn said all three of the above, in a broad sense, require fairness and solid news values "to determine – without fear or favour – what is newsworthy", as well as high standards of journalistic integrity.
Shinn said the SABC should be aspiring to achieve accuracy, truthfulness and fairness, and not implement an "artificial construct" of "sunshine journalism".
"Mr Motsoeneng has frequently told parliament's portfolio committee on communications that he sees SABC's role as a public broadcaster to spread good news and government activities, particularly those of president Jacob Zuma, Shinn said.
"His latest declaration is a clear statement of intent to flood news and feature programmes with government propaganda before next year's general election."
She added: "His editorial interventions have included banning radio discussions programmes on political issues because the ANC (African National Congress) was not included and interrupting scheduled programming to give live coverage to a speech by the president that was not an issue of national importance. His actions have been arbitrary and unprofessional."
Shinn believes given next year's election, it does not require the brains of a "rocket scientist" to figure out the reason "key ANC communicators" are trying to push more "sunshine journalism" onto the SABC.
Shinn believes South African citizens are not interested in being lied to with regards to what unfolds in the country.
"We want the truth and nothing but the truth. We will hold the new SABC board accountable – due to take office on September 26, to ensure that editorial integrity and adherence of the SABC's editorial policy is strictly adhered to in the run up to the 2014 election," concluded Shinn.