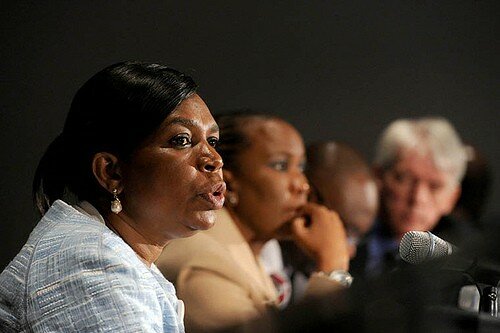 Dina Pule. CC Image courtesy of GovernmentZA on Flickr.
Taxpayers in South Africa have paid ZAR1.2 million (US$119,000) to fund the costs of ex-communications minister Dina Pule's legal defence in three various investigations against her, her successor has revealed.
The revelation has prompted shadow communications minister for opposition party the Democratic Alliance (DA) Marian Shinn to demand further clarification of the legal bills, which she termed "excessive".
Shinn put forward a three-tiered parliamentary question asking for disclosure of the running total of costs incurred by the taxpayer with respect to Pule's legal fees in the case against the Sunday Times at the press ombudsman, the parliamentary ethics committee probe against her, and the investigation by the public protector.
"The total legal costs incurred thus far in respect of these matters amount to ZAR1,187,148.82," said Yunus Carrim, communications minister, reports the South African Press Association (SAPA).
"Some legal costs are still payable but are unknown at this stage," Carrim said.
Shinn does not feel the question has been answered in sufficient detail to provide accountability to South African taxpayers.
"I am disappointed that Minister Carrim chose to give a global figure instead of specific answers to each of the three parts of the question, which is why the question was structured as it was," Shinn said.
"I will ask follow up questions to get greater transparency on Dina Pule's legal bills that are being paid by taxpayers."
The press ombudsman found against Pule, as did the ethics committee, which found that Pule had "wilfully misled" parliament with respect to her relationship with Phosane Mngqibisa, who allegedly benefitted financially from dealings with Pule's department in particular relating to the ICT indaba held last year.
The investigation by the public protector is ongoing, and may be the cause of the continuing costs.