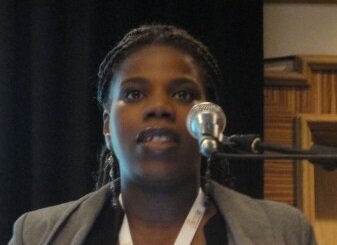 Thecla Mbongue, senior research analyst at Informa Telecoms & Media.
Data is responsible for 15 per cent of service revenue in the Nigerian telecommunications sector, Thecla Mbongue, senior research analyst at Informa Telecoms & Media, has revealed.
According to Informa, at the end of the first quarter of 2013, US$336 million was generated in data revenue.
Out of the total revenue, US$256 million was realised from non-messaging data.
"Non-messaging now generates most of data revenues as access to internet, social networks, apps and chat increase," Mbongue said.
Speaking this morning at the NigeriaCom conference in Lagos, she said each subscriber spends on average US$2.80 monthly on data.
Mbongue described local content as a key driver for mobile data growth in Nigeria.
HumanIPO reported in August pan-African mobile operator MTN had experienced a 36.9 per cent increase in data revenue growth during the first half of 2013, while the data revenue growth in Nigeria stood at 35.9 per cent.
Concerning mobile financial services, she said it is still at the initial stage in Nigeria due to the processes that operators had to follow to convince the Central Bank of Nigeria (CBN) that networks were not trying to replace banks.
"Mobile financial services are not yet a big deal in Nigeria. Explaining to the CBN was a major challenge," she said.
She however disclosed that payments made via mobile financial services rose from 28 per cent in 2012 to 33 per cent in 2013.
On broadband deployment in Nigeria, she noted that spectrum allocation is a major issue.
She noted that the anticipated digital migration in 2014 would make more spectrum available for networks operating in Nigeria.