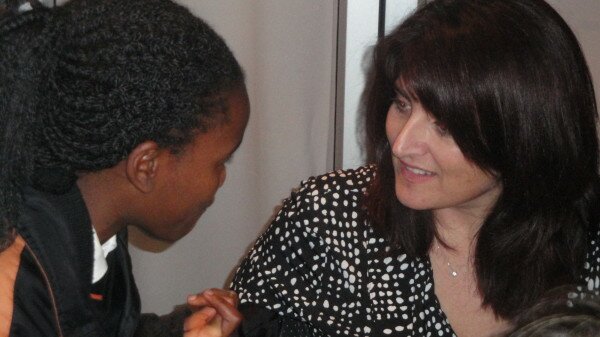 Dawn Rowlands, CEO at Aegis Media, speaks to a girl of Leap Year school at the GGDCPT in September.
Dawn Rowlands, chief executive officer (CEO) at Aegis Media Sub-Saharan, told last night's Girl Geek Dinners Cape Town (GGDCPT) that being a woman was never an obstacle to her career progress.
Rowlands explained having a plan, goals and sticking to what she is passionate about doing have helped her to become successful.
Being a mother and wife as well as a career woman has its challenges, Rowlands said, but gaining support is essential.
"There was never actually an instance in my life where I kind of thought: 'Oh I am a woman, I can't do this or I can't do that'", she said.
"It was never a major setback for me."
At the time when she chose to be a career woman as well as have a family, it was considered quite unusual.
"I grew up in an era where women were generally housewives," Rowlands said.
As a successful entrepreneur who built and sold her own company in the advertising and marketing industry, she sees herself as driven with ambitious energy.
"If you work hard at something that you are really passionate about, you can really make a difference," she said.
She feels professional jealousy and the lack of realising potential are the two most disappointing things she has experienced in the corporate world among colleagues.
Rowlands warned women against jealousy with regards to achievements, saying rather than pushing others down to get to the top, one should aspire to improve to excel.
Witnessing growth of people in the workplace keeps her inspired to go back daily.
HumanIPO reported in July on speaker at a previous GGDCPT, Nikki Cockroft, and her decision to continue her career as she becomes a mother.