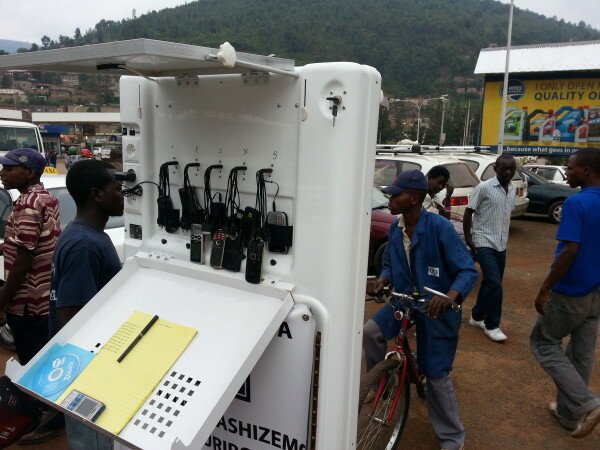 One of Henri Nyakarundi's portable mobile charging kiosks.
The Rwandan entrepreneur behind a renewable energy portable multiple mobile charging device is targeting substantial investment after making it into the VC4Africa September Cohort.
HumanIPO reported last week VC4Africa had selected 10 entrepreneurs from Kenya, Nigeria, South Africa, Rwanda, Cameroon and Ghana to benefit from the organisation's network of potential investors, pitching practice and business development support.
The mobile charging kiosk is fully developed and already operational in Burundi and Rwanda, but speaking to HumanIPO Henri Nyakarundi, founder of ARED, said US$250,000 investment was needed for him to build 100 kiosks to be evenly split between the two countries.
Nyakarundi is implementing a franchise business model, where business minded individuals will pay ARED a one-off fee of US$350 or US$500 to purchase a kiosk, plus a monthly charge of US$45 to service and support the device.
The lower-end cost would supply an individual with a kiosk, powered by solar energy, to charge up to 20 phones at a time, while the US$500 fee gives franchisees control of a "smarter" kiosk, which can also sell mobiles, airtime and electricity.
The kiosk was three years in development from when Nyakarundi began working on it in 2009 and the 36-year-old entrepreneur, who sold his truck company in the United States to move back home and begin his new venture, is glad he took the time to build the kiosk himself.
"I really wanted to bring value to the business," Nyakarundi said. "I wanted to design and engineer my own product and that is very important. I didn't want to just import something from China."
For consumers who want to charge their device at one of the kiosks, it costs around 10 cents to full charge.
Users can visit a kiosk, drop off their phone and take a ticket and then return a couple of hours later to pick up their device again.
There are currently three operational mobile charging kiosks in Rwanda and one in Burundi, but Nyakarundi said not just anyone can become a franchisee.
"When a potential franchisee applies there needs to be two people put forward who will be involved with operating the kiosk and we do background checks," Nyakarundi added.
"But I want to target the 'bottom of the pyramid' so to speak and those who are business minded. That is where the fees come in because if someone has to sacrifice something then they are more likely to work as hard as possible to make a return."
Regarding tackling the problem of allowing the right kind of motivated person to be able to afford to become a franchisee, Nyakarundi said he was already in discussions with a microfinance company over a potential partnership to support applicants at the beginning.
To date, Nyakarundi has bootstrapped ARED, using the money from his previous business in the United States to fund the product development, but he believes US$250,000 is needed to cover operational costs for two years, employ more staff and order 100 kiosks.
The eventual plan is to roll out the kiosks in more African countries – he has already had interest from New Guinea and Zambia – but for now those 100 devices will be split evenly between Rwanda and Burundi.
"The reason I am focusing on these two places is they are small markets and we will be able to support franchisees properly. We are not just going to to go to a country and expand ourselves. To do that you need to have a strong system already in place."
Nyakarundi, Rwandan by birth, grew up in Burundi and moved to Atlanta, United States, when he was 16-years-old for education.
He said he realised in 2009 it was time to move back to Africa because he saw the development and advances his home country was making and the potential in the market.
"The States was tough, it was not what I thought it was going to be, but it did teach me a lot about business," Nyakarundi said.