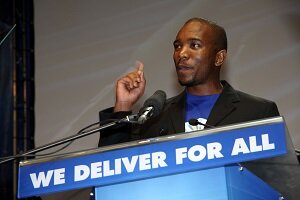 Mmusi Maimane, DA premier candidate for Gauteng. CC image courtesy of the Democratic Alliance on Flickr.
South African opposition party the Democratic Alliance (DA) has claimed responsibility for billboards sighted along the N1 and N3 highways, which indicate the African National Congress (ANC) is behind the controversial e-tolling system in Gauteng.
HumanIPO reported on the billboards last week. The billboards state: "E-tolls. Proudly brought to you by the ANC," a message which the DA said is "100 per cent accurate".
"It is difficult to see why the ANC is so upset about the billboards that have been erected on Gauteng highways next to e-tolling gantries," said Mmusi Maimane, the Gauteng premier candidate for the DA.
"E-tolls were conceived under the watch of an ANC minister, supported by an ANC executive in Gauteng, passed into law by an ANC majority parliament, and signed, sealed and delivered by an ANC president. So what's the ANC's problem with the billboard? Is the ANC ashamed of e-tolls all of a sudden?"
Maimane believes the ANC is now "panicking" due to the widespread public disapproval of the e-tolling system on the province's highways, because, according to the DA, e-tolls will cause the poor to be poorer and will negatively impact on jobs.
The ANC has reportedly lodged a complaint with the Advertising Standards Authority (ASA) of South Africa as well as with the Independent Electoral Commission (IEC) regarding the billboards.
In line with this complaint the DA said: "Bring it on. We will defend our right to erect these billboards in any forum the ANC chooses."
Maimane said if he is elected as Premier of Gauteng in next year's elections, he will do everything in his power to "stop e-tolling in its tracks".